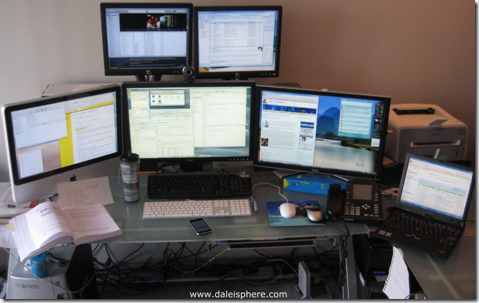 The Daleisphere Command Center 🙂
In mid-February 2009, I made the unfortunate mistake or using a registry cleaner in hopes of tweaking even more performance out of my Windows 7 Beta ("Win7B") setup. The net result – my ship was sunk!
All my data was backed up, of course, but it took me two months to gradually re-install and tweak 'most' of the dozens of apps I use to run my law practice, develop my websites, blog and otherwise run my world.
On the advice of my nephew Michael Kalistchuk, an IT consultant, I painstakingly documented the details of the applications I use and how I configure them. This post grew out of those notes.
It's unlikely I'll need these notes for recovery purposes because I have since used Windows 7's built in image backup system to create a recovery image.
More likely, when the final version of Windows 7 is released, I'll do a clean install (rather than install over my current install) requiring me to do all of this over again. These notes should dramatically decrease the time it will take to get my command center up and operational again.
General Notes:
Order: The items below are generally listed in the order that I installed and tweaked them – though the network and general system setup steps were more intermixed.  I group them together below for ease of reference.
Redactions: I have removed the various software keys, userids and passwords for obvious reasons.
Google Docs: I compiled this list using Google Docs. I am often called upon by friends and family members to assist with their systems. By keeping this info in Google Docs I can access the information from any computer in the world.
Bullet Points: Please excuse the 'bullet point' presentation. I have not attempted to write this up like a typical post.
64 Bit Version of Win7B: Some of the outstanding issues listed below stem from my use of the 64 bit version of Win7B.
Your Comments: I'd appreciate any comments you might have to solve my outstanding problems or to offer alternative setup suggestions.
Outstanding Issues:
While I have resolved a great many problems, there are still several outstanding issues I have using Windows 7 Beta. They are outlined below:
Reference:
Basic Windows 7 Setup:
Windows 7 x64 product key: [snipped]
Download Drivers from Dell: XPS Tag:   [snipped tag]
Do a 'Windows Update'
Get rid of 'Send Feedback' text in every Window:
http://www.daleisphere.com/how-to-disable-send-feedback-link-in-windows-7-beta/
Screen Saver
– Start -> 'Screen Saver' -> Aurora; 60 minutes
Power Options
Firewall – Turn off
Add Take Ownership Utility:
http://www.vistax64.com/tutorials/112795-context-menu-take-ownership.html
Recover Desktop Files from Backup:
[backup directory]Users\Dale\Desktop
Change System-wide 'My Documents' Default Location to be Included in Second Copy Backup Directory:
– How to do this is described here:
http://www.mydigitallife.info/2007/11/25/change-my-documents-folder-default-location-path-in-xp-and-vista/
– Change Default from
     c:\users\Dale\My Documents
  to
      c:\files\My Documents
Right click on c:\users\Dale\My Documents
Select Properties in the context menu.
Click Location tab.
In the Target box type the path to the folder location that you want My Documents to be, c:\files\Documents
click OK button.
Restore Quick Launch Bar:
Right-click the taskbar,

Uncheck the "lock  the taskbar"
Choose Toolbars / New Toolbar

In the folder selection dialog, enter the following string and hit OK:
%userprofile%\AppData\Roaming\Microsoft\Internet Explorer\Quick Launch
The Quick Launch Bar will be added to the right side of the task bar beside the system tray
Right-click on the 'Quick Launch Bar" divider.

Uncheck the "Show text" and "Show title" buttons
Select view and choose "small icons" or large icons as per your preference

Use the dividers to rearrange the toolbar ordering to choice, and then lock the taskbar again.
Audio
Download and install Realtek AC97 Audio Drivers:
http://www.realtek.com.tw/downloads/downloadsView.aspx?Langid=1&PNid=14&PFid=23&Level=4&Conn=3&DownTypeID=3&GetDown=false
– run setup.exe from the resulting zip file.

Recover Gadgets:  Gadgets are stored in this directory:
– C:\Users\Dale\AppData\Local\Microsoft\Windows Sidebar\Gadgets
WB7 MP3 Update:
– See MP3 Corruption Issue: in this post
– may already be installed in W7B updates – need to be sure in order to safe-guard MP3s.
– Direct Links to x64 update: –
http://www.microsoft.com/downloads/details.aspx?FamilyID=0c56bf3c-9370-4fda-b4c8-5dc63d55626d&displaylang=en
Mouse & Windows Defaults:
Start –> mouse -> Pointer Options tab
    – Automatically move pointer to the default button in a dialog box
    – Display pointer trails  
Control Panel –> Ease of Access Center –> Make the Mouse Easier to Use
  – change default mouse pointer to 'Extra Large White
  – Check both boxes under 'Make it easier to Manage windows' See blog posts:  
Printer Setup:
– Copy ML-1710 driver executable from N: network drive to desktop (W7B will suggest an updated driver after it is installed)
– Run in Vista compatibility mode (won't otherwise run)
– delete from desktop after install
– test from laptop and iMac
Networking:
Major XP Networking Connection Issue Discussed here:
http://windows7forums.com/windows-7-networking/3262-could-not-reconnect-all-network-drives-problem.html#post16010
– On XP Systems, change Windows Firewall settings
  – got Advanced tab
  – make sure 'Local Area Network Connection' NOT checked
Connect Drobo:
– Start – right click Computer – map drobo network drive to N:\   —>> \\webserver\drobo
– Windows Explorer – Right click favorites to add directories to favorites (wp, files, media, c, d etc.)
– Dot: Rename drive letters in Windows Explorer to DOT (ie: '.') to get rid of long names
– Firefox Downloads: change Firefox Downloads Default to drobo
Workgroup:
WorkGroup: Start –> workgroup –> [snipped]
HomeGroup: Start –> homegroup –> password: [snipped]
Advanced Sharing Settings:
Start –> network and sharing center –> change advanced sharing settings
Public Folder Sharing:
turn on sharing so anyone with network access can open files
Password Protected Sharing: – turn off password protected sharing
Windows HomeGroup Connections: – Use user accounts and passwords to connect to other computers
Share c:\Files: with 'Dale' and 'HomeGroup' UAC – Turn Down – type UAC in Start Menu to access
Firewall – Turn off
Windows Explorer:
Turn on Menu Bar: Organize -> Layout -> Menu Bar
Turn on Status Bar: View -> Status bar
Options: — > Tools -> Folder Options
General Tab:
– single click to open
– Navigation Pane: check each of the boxes in
View Tab:
– Display full path
– show hidden files
– don't hide ANYTHING
– use check boxes to select items
Search Tab:
– always search file names and contents
Drag Most Commonly used Folders into Favorites (also 'pin' to IE icon in task bar):
– C, D, I, N, W
– backups
– Clients
– Downloads
– files
– iTunes
– law
– media
– My Pictures
– ph
– precedents
– uploads
– WP
– 106CANNON
Windows Defender: – set scan time
Start Menu Properties – Go Nuts with usual settings
Windows Indexing:
Start -> Indexing Options
Add directories – no network directory indexing in Windows x64 – Grrr!
  (NOTE: Doesn't work in x 64 systems)
  Windows Desktop Search: Add-in for Files on Networks does work with x32 systems:
http://www.microsoft.com/downloads/details.aspx?FamilyID=f7e981d9-5a3b-4872-a07e-220761e27283&displayLang=en
Applications Install and Setup:
One Note: Where I keep all my system notes (hopefully change to Evernote one day)
– Key: [snipped]
– Pin to Start menu
– remove OneNote icon from sys tray (right click option)
– Change Default dir to: C:\files\OneNote 
– Tools -> Options -> Open & Save -> My Notebook 
– change backup to c:\AutoRecover 
– restart
Internet Explorer:
– Add Back Menu Bar:
    Tools -> Toolbars –> Menu
– Xmarks (formerly Foxmarks) for IE
FireFox:
Download and install:
http://www.mozilla.com/en-US/products/download.html?product=firefox-3.0.6&os=win&lang=en-US
Configure:
Foxmarks: Username: Dajad – Password – Usual 
Toolbars: Right click toolbar –> Customize – New Tab – New Window – Print
Start Page: mail, calendar, finance
Downloads -> Tools -> Options… -> Main  Tab -> Check 'Always ask me where to save files'
iTunes:
Blog Post on Topic:
http://www.daleisphere.com/how-to-move-the-itunes-library-to-a-home-server-while-keeping-its-underlying-media-structure-intact/
– Download 64 bit version of iTunes
– install but do not run
– copy backed up iTunes structure to/from : C:\Users\Dale\Music\iTunes  to recover apps, playlists, album art, music, videos etc.
– It should JUST WORK if the C:\Users\Dale\Music\iTunes directory was properly backed up.
– when syncing iPhone, got 'Info' tab, sync contacts and calendars from Outlook – I CHOSE 'REPLACE' & NOT 'MERGE'
Foxit Reader:
– 2.3 version better than 3 (want web .pdf's to open in reader NOT web page)
– http://www.foxitsoftware.com/pdf/reader_2/down_reader.htm
– Edit -> Preferences –> Internet –> Uncheck 'Display PDF in Browser'
Microsoft Office 2007:
Key [snipped]
Outlook 2007:

[Note: As an alternative to recovering Imap folders as described below, try restoring Folders.pst first, then add imap account, then add in imap.pst]

Imap Files

– FIRST set up an iMap/Gmail 'account' as instructed here:
http://mail.google.com/support/bin/answer.py?answer=77689
– You don't have to complete it, just start and save.
– EXIT Outlook
– Rename the recovered iMap .pst file in this directory
    Users\Dale\AppData\Local\Microsoft\Outlook
– delete the .pst file that was created when the 'account' was set up
General PST File
  – Add in the following folder from c:\outlook (or as backed up on Drobo)
  – Folders.pst for Calendar and contacts:
Configure IMAP:
See following blog posts:
 http://www.labnol.org/software/tutorials/solutions-for-slow-gmail-imap-with-microsoft-outlook/1761/
http://www.howtogeek.com/howto/microsoft-office/use-gmail-imap-in-microsoft-outlook-2007/
Install Outlook Personal Folders Backup App:
http://www.daleisphere.com/automatic-outlook-2007-email-backups-sort-of/
– Outlook Personal Folders Backup:
http://www.microsoft.com/downloads/details.aspx?FamilyId=8B081F3A-B7D0-4B16-B8AF-5A6322F4FD01&displaylang=en
– Tweaks needed to get it to work:
http://turtleflock-ol2007.spaces.live.com/blog/cns!C1013F1F9A99E3D8!114.entry
Customize Quick Access Bar: Create New Email –> Outlook Button –> Customize
Add in:
– Format Painter
– HTML
– Insert Hyperlink
– Quick Print
Columns/Fields in Inbox: Set as follows
– Right Click on column headings
– Select "Customize Current View"
– Select / remove desired 'Fields"
PDF Previewer
– Install Foxit PDF Previewer <– Note: As of March 3, 2009 – still some problems with Windows 7 beta
Change Email Default Font: (both original and replies)
– Tools –> Options –> Mail Format tab –>  Stationary and Fonts… button
– click 'Font' button under each of 'New mail messages' and 'Replying or forwarding messages' button
– Font:
  – Verdana
  – 11 Pt
  – Color: 'Dark Blue, Text 2, Lighter 40%
– Plain text response: Arial – 11 pt
Outlook Email Signature File:
– Recover from backup here: C:\Users\<user>\AppData\Roaming\Microsoft\Signatures
– Compose new email
– On 'Insert' tab, click 'Signature' then 'Signatures…"
– click on Desired signature
– Click on 'New Message' pull down on right and pick the desired default signature – will be default thereafter
– Do not include signature on replies/forwards
– See also:
http://www.hanselman.com/blog/EmailSignatureEtiquetteWithOutlook2007AppropriateFlair.aspx
Bcc in Outlook:
– Start to compose new email
– click 'Options' tab
– Click 'Show Bcc'
– Thereafter Bcc stays on by default
– How to Get Rid of Annoying Warning message when Opening Attachments
Word 2007:
Change Default File Type to .doc: (most clients still using Word 2003 or earlier)
Word Button –> Word Options –> Save –> Choose 'Word 97-2003 Document (*.doc) in pulldown menu
Change Default Language to English (Canada): (for all other things I prefer English U.S., but for Word documents with Canadian clients I use English Canada)
– Word Button –> Word Options –> Popular –> Language Settings box
– Chose English (Canada) as the 'Primary Editing Language)' <– must do this before you can do next step
– Remove 'English (US)' from the 'Enabled editing languages list.
– Must restart Word for change to take affect.
Restore normal.dotm:
– no need to recover so long as I point my templates directory to c:\files\templates (see below)
Restore Custom.dic:  (restore my customized dictionary built up over many years)
– Recover from backup in this hierarchy: C:\Users\Dale\AppData\Roaming\Microsoft\UProof\Custom.dic
– Note: Also accessible/viewable through: Word Button –> Word Options –> Proofing –>  'Custom Dictionaries…' button
View Ruler:
Either:
– click on little 'view ruler' icon on top of vertical scroll bar (top right); or
– on 'View' tab, check the 'Ruler' checkbox
Enable Macros:
– Word Button –> Word Options –> Trust Center –> click 'Trust Center Settings…" button –> Macro settings:
– select 'Enable all macros (not recommended… yada yada)
Add Save as PDF Add-on for all Microsoft Office Apps:
– Download:
http://www.microsoft.com/downloads/details.aspx?FamilyID=4d951911-3e7e-4ae6-b059-a2e79ed87041&displaylang=en
– Install
Customize Quick Access Bar: Word Button –> Word Options –> Customize
  Add in:
– Open
– Save As
– Format Painter
– Print
– Quick Print
– Track Changes
  Remove:
– Save, Undo, Redo (I use keyboard shortcuts, Ctrl-S, Ctrl-Z, Ctrl-Y for these)
Adjust Track Changes Options:
On Review Tab –> Click down arrow under 'Track Changes Icon' –> select 'Change Tracking Options'
– Insertions: Double Underline
– Insertion Color: Blue
– Deletions Colour: Red
– Changed Lines: none
– uncheck 'Track moves' box
– uncheck ' Track formatting' box
– select 'Never' in 'Use Balloons (Print and Web Layout)
– click OK
Miscellaneous:
Word Button –> Word Options –>
– Display –> check 'Update fields before printing box' (ie: for auto cross references and page references)
– Proofing –> uncheck 'Mark Grammar errors as you type' & 'Check Grammar with Spelling" (annoying in legal docs)
– Advanced –> Check 'Match Destination Formatting' in all 'cut, copy and paste' boxes
– Advanced –> Select 'Square' for 'Insert/paste pictures as' option
– Advanced –> Show document content –> select 'Always' in Field shading option (to highlight auto-generated cross-references/page numbers)
– Advanced –> Display –> choose maximum (50) on 'show this number of recent documents'
– Advanced –> Display –> choose inches – on 'show measurements in units of: option
– Advanced –> Display –> choose 1 inch – on 'style area pain …'
– Advanced –> General –> Click 'File Locations…' button and modify: 
'User Templates' to c:\files\l\templates
   'Startup' in lieu of deleting this – make sure NOTHING is contained in the indicated directory:
       C:\Users\Dale\AppData\Roaming\Microsoft\Word\STARTUP
– Advanced –> click + sign beside Layout options and select:
   – Add space for underlines
   – Draw underline on trailing spaces (needed for signature lines)
– Word Button –> Word Options –> Trust Center –> click 'Trust Center Settings…" button
  – check 'Search Microsoft Office Online for Help…' box
Bullet point:
– Word Button –> Word Options –> Proofing –>  Auto Correct Options button
– Replace 'bl' with preferred round placement holder bullet from any document that it contains (preview – eg: Precedents\@Clauses\Indemnity Exclusion.doc
– Note: This must be done AFTER changing the default templates directory to :c:\files\l\templates because this info is stored there.
LifeCam Codec: (webcam)
– Install BEFORE Skype, Google Talk Voice & Video and Windows Live Messenger
– Install: LifeCam2.9.exe (older pre-Vista version works with W7B)
– See also Windows 7 Forums:
Windows Live Writer:
– Windows Live Essentials: http://download.live.com/
– Carefully parse out Microsoft's attempts to install crap and change browser defaults as you install
– Options –> Preferences – uncheck useless 'view post after publishing'
Windows Live Messenger:
– set to run in Vista compatibility mode in order to minimize to system tray
  – right click on the app in the 'All Programs' menu;
  – select 'Properties';
  – select the 'Compatibility' tab (see picture below);
  – put a check in the 'Run this program in compatibility mode for:' box;
  – select the "Windows Vista' option in the pull-down menu (see picture); and
  – click 'Apply'.
.net Framework (needed for Paint.net and other things)
http://www.microsoft.com/downloads/details.aspx?FamilyID=ab99342f-5d1a-413d-8319-81da479ab0d7&displaylang=en
Paint.net:
Changing Paint.net Defaults:
– Under the Tool: item on the left side of the second tool bar there is a 'choose defaults…" option
Default Tool: Rectangle select
Brush Width: 4
Text: Verdana, 9pt, right justified

Codecs
– Run/Install Win7codecs_v101.exe –> From Shark007's Win 7 Codecs Page

LifeChat Codec: (headset)
– Install: LifeChat 1_3.exe 
Skype – http://www.skype.com/download/skype/windows/
– Tools/Preferences – Advanced Settings
– Uncheck 'Use Skype to callto: links on web' (otherwise covers up phone numbers on Firefox)
Google Talk Voice an Video Chat
Adobe Flash 10 – Needed for pixlr.com online image editing (can edit images from desktop without uploading first)
Adobe Air – Needed for Twhirl and other cloud-based apps
Twitter Desktop Apps:
blu: blu.application (from www.thirteen.23.com)
Twhirl: http://www.twhirl.org/
Twitteron: http://www.techlogica.us/software/twitteron/
Java (must install before installing Woopra)
– Watch Out for Yahoo! toolbar add-on option – must uncheck
Woopra:
Download & Install:  http://www.woopra.com/download/#versions
Google Calendar Sync: (backup Outlook before running – just in case)
http://www.google.com/support/calendar/bin/topic.py?topic=15305
– Note: Didn't work at first but worked later (possibly needs system restart to take effect)
Team Viewer:
Download & Install:  http://www.teamviewer.com/index.aspx
Dreamweaver 8 Install:
– Map webserver websites root (htdocs) folder to W:
– Install Dreamweaver8-en.exe
– Before running restore backup Directory: C\Users\Dale\AppData\Roaming\Macromedia\Dreamweaver 8\Configuration
– Serial Number: DWD800-03111-57237-16637
– Install 8.02 Update: dw8_802_update_en.exe
  (check to see if any subsequent updates here:
http://www.adobe.com/support/dreamweaver/downloads_updaters.html
– Manage Sites (top right)
  – edit locally, then upload to remote testing server
     – C:\files\Webs\Daleisphere.com\
  – How do you connect to testing server: Local/Network:
     – W:\daleisphere.com
  – http://localhost/
Preferences:
BASIC TAB:
General:
– uncheck 'show start page'
File Types / Editors
– .htaccess -> Dreamweaver
– . .gif -> Paint.net
– . .jpg. jpg. jpg -> Paint.net
– . .png -> Paint.net
Preview in Browser – Firefox 3.0
Site –> Check (Prompt on put/check) to uncheck box)
– Do a 'put'
– Say 'no' See —>  http://dreamweaverforum.info/dreamweaver-general/154260-how-stop-dw-putting-dependant-files.html
ADVANCED TAB (re: on Site Manage):
Remote Info – check 'automatically upload files to server on save' box
To show hidden files:
http://websitedesign.websitesinaflash.com/2007/11/dreamweaver-tip-hidden-files.html
(log onto remote view –> click top right pull-down menu –> View –> Hidden Files)
Filezilla Client: (ftp client to work with media temple web server)
Download: http://filezilla-project.org/  (Note: Do NOT download or install SERVER – doh!)
– Enable hidden Files View:
    Server > Force showing hidden files

TiVo Desktop:
NOTE: Make sure you run BOTH the installer and the executable in Vista Compatibility mode in order for TiVo Plus License Key to take
Download & Install:  http://www.tivo.com/mytivo/whatsnew/tivodesktop/
Media Access Key S2 & S3: [snipped]
TiVo Desktop Plus License Key: [snipped]
Second Copy 7 (backup tool)
– get download here: http://www.centered.com/download.html
– Second Copy  Serial Number: [snipped]
– recover profiles.dat file from: C:\Users\<username>\AppData\Local\Centered Systems\Second Copy\Profiles.dat
– check the box "Start at log in" from the Edit | Options | Startup tab.
– [Doesn't run on boot in Windows 7 as of April 15, 2009]
Sharing Directories to iMac & Vice Versa:
– Share C:\files with 'Everyone' on my network
– Changing Security Settings
   – Windows Button
   – search for 'security configuration management'
        – Security Settings -> Local Policies -> Security Options -> Network security: Lan Manager authentication level
            – set to 'Send LM & NTLM Responses'
        – Security Settings -> Local Policies -> Security Options -> Network security: Minimum Session (there are two of these – client & server)
            – set each to 'no minimum'
KatMouse (Steve Gibson's recommended terrific auto scroll-wheel utility)
Download & Install:  http://ehiti.de/katmouse/
Sticky Notes:
Recover from backup: C:\Users\Dale\AppData\Roaming\Microsoft\Sticky Notes\StikeyNotes.snt
Windows Live Mesh: (reinstall)
Download: https://www.mesh.com/Web/Devices.aspx
Safari 4 Beta:
Bookmark Import: http://www.daleisphere.com/how-to-import-firefox-bookmarks-into-safari-4-beta-in-windows/
====  POST SYSTEM IMAGE BACKUP (April 20, 2009) =======
Utilities Folder
Return the 'Utilities' Folder from the Desktop backup to return the following small utilities:
WinDirStat <—Hard drive exploration utility
Space Monger <—hard drive exploration utility 
SIW.exe <—system exploration utility
gspot <—codec exploration utility
Install Woopra 1.3 RC
Install Presto's Clock Gadget
Install Hotspot Shield  (download from: http://hotspotshield.com/)
  Vista 64 Instruction Demo: http://www.youtube.com/watch?v=-R-ZvIsnA6s
  Demo: http://www.youtube.com/watch?v=BBsnkM8Hac8
TO DO:
Comments
comments