Reviews: Rotten Tomatoes 89% | IMDb External Reviews
The Trouble with Harry (1955) is not your typical Hitchcock movie. It is, to some degree, a who-done it, but it is hardly suspenseful. IMDb calls it a comedy | mystery | thriller. I agree with the comedy part and, perhaps its a bit of a mystery. But it is hardly a thriller. Rather its a small, sleepy, madcap of a movie (if a movie that slow can be called a madcap) with a good ensemble cast.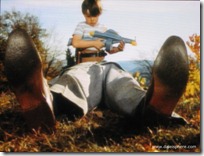 Edmund Gwenn finds the rather dead ('Harry') while hunting. He thinks he shot the man. Remarkably, multiple residents of a tiny hamlet trundle by the 'scene of the crime' , even though the scene is a remote hilltop in the woods. Confusion, cover-ups, mix-ups and new-found love ensues.
This was Shirley MacLaine's film debut. At 21, she was at her buttoned-nosed cutest. She was terrific from the start, playing a recently widowed, single mother. [My all-time favourite Maclaine movie is probably The Apartment (1960), with Jack Lemmon].
What struck me most, though, was how contemporary actress Julianne Nicholson is a dead ringer for Shirley MacLaine in this film (see photos below). If this film were ever re-made, Nicholson would be the spot-on choice to play her role. Better yet, if a movie required a young and old version of Shirley MacLaine, these two would be a perfect match – not just for their remarkably comparable looks but for their similar personalities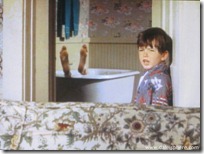 Jerry Mathers, two years before he found fame as 'the Beaver', was the first to stumble upon Harry. This explains how Shirley MacLaine, who plays his mother, finds her way to the corpse. Mathers provides a terrific performance for a 7 year old. It's understandable how he got the title role in Leave it to Beaver.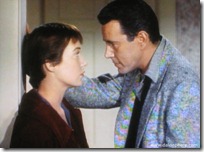 As much of a classical movie fan as I am, I can't say that I remember too many other John Forsythe movies. I was never a "Dynasty" fan. For the first 40 minutes or so, all I could think of was the voice of Charles Townsend over the speaker-phone in "Charlie's Angels. Nonetheless, I enjoyed his role as a quirky artist, seemingly oblivious to everything happening around him.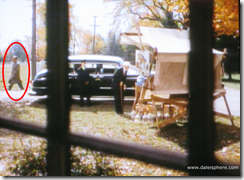 For the Alfred Hitchcock cameo hunters (click here for a full list of his cameos), he can be seen (circled in red) strolling past, as the 'millionaire' examines Forsythe's paintings (click image for larger view). Despite this being anything but a typical Hitchcock film, Hitchcock's remarkable filming techniques are very much present. It is, unmistakably, a Hitchcock film.
Conclusion
I first saw this movie when I was 20 (some 24 years ago) – just after it was re-released. A local cinema was showing the '5 lost Hitchcocks' back-to-back. It turns out I had forgotten 100% of the story save for the living room closet door's penchant for opening by itself (odd the things we remember). I did recall enjoying it then and I enjoyed it about as much 24 years later.
For anyone wanting to experience all that is Hitchcock, this is a must-see. For anyone else, If you are in the mood for a relaxing, well made, slow madcap, ensemble piece revolving around a surprisingly bothersome corpse, its good fun.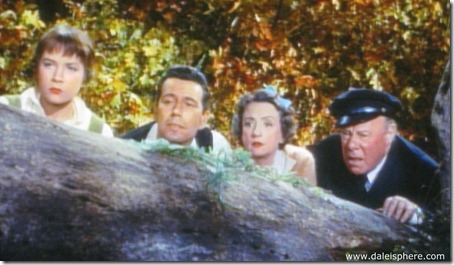 Comments
comments