(3/5) drama, mystery, romance
William Powell and Myrna Loy are second only to Tracy and Hepburn in the pantheon of my favourite classic movie on-screen couples. They appeared together in 14 films over 13 years, the most famous of which were the widely popular (in their time) "Thin Man" series.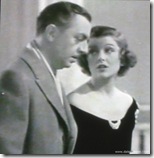 In Evelyn Prentice a workaholic lawyer (played by Powell) is too busy for his young wife and child. As the relationship is strained, Loy spends an increasing amount of time with a womanizing poet intent on blackmailing her.
Evelyn Prentice (1934) came out in the same year as the first Thin Man movie. What made the Thin Man and its successors so delicious for me was the terrific chemistry between the two. That couple was clearly, absolutely and deeply in love with each other. Their witty banter and repartee combined with mutual respect and equality was uncharacteristic of the era.
Their relationship in Evelyn Prentice, a very different kind of movie, is only a hint of what it is in the Thin Man series.