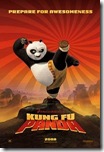 (5/5) – animation, action, comedy 
Kung Fu Panda is a beautiful, vibrant, original and, dare I say, inspirational, movie. I had high expectations going in and they were exceeded.
With a few notable exceptions (Nacho Libre) I've enjoyed pretty much every movie I've seen that featured Jack Black. This role, which seemed written for him, is no exception.
Animated features are hardly a novelty these days. We take their high production values for granted. Yet this Dreamworks production is a notch above. It has an authentic Chinese and kung-fu look and feel. The directors and artists pay particular attention to the details of Chinese architecture, painting, sculpture and philosophy. The colours are more vibrant, more real than usual. It 'feels' warmer and more believable. During the movie I noted to myself that this movie should be well received in China. It's as close to Crouching Tiger, Hidden Dragon (2000) as an animated movie can get.
It's funny. I laughed out loud many times. With one exception (hint, there's a Nacho Libre reference) it does not rely on the inside-Hollywood humour that has become common in animated movies. Instead, the movie's original story stands on its own.