(4.5/5) action, super-hero, thriller
Reference:

|


Reviews: Roger Ebert | IMDb External Reviews | Rotten Tomatoes (84%) | Metacritic (70)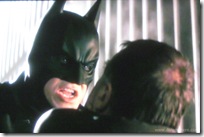 This is a very good movie.
I watched Batman Begins (2005) for the second time both to prepare for The Dark Night (2008), and to test HD Internet movie downloads through my Apple TV (review coming soon). I was impressed when I saw it in the theatre back in 2005 and was impressed once again.

As a child Bruce Wayne (Christian Bale) witnessed the murder of his parents. We discover him years later in an Asian jail as part of his 'exploration of the criminal

fraternity'. Ducard (Liam Neeson) urges Wayne to follow his master, Ra's Al Ghul (a cameo role played by Ken Watanabe), to become more than just a vigilante. Ducard promises, that as a member of the 'League of Shadows", Wayne will learn to combat his fears, combat evil – and become a legend. That's how Batman begins!