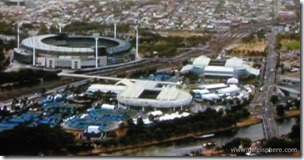 Below is a roundup of my thoughts and observations concerning the first week matches at the 2009 Australian Open.
Click on the photos below to view full-sized versions.
Men's Singles

Nadal Tweaks his Game & His Outfit: Number 1 seeded Nadal has changed his service stance (a little more open, left leg further back and tighter in) to try and get more speed on his serve. It seems to be working so far. His average first serve speed at the Aussie Open in 2009 is 113 mph. His average speed in 2008 was 109 mph. He is also dropping the elbow close to the body to take topspin off his forehand and flattening his forehand to work better on the slower Australian courts. As for fashion, his shorts are a little shorter and he has shirt sleeves for the first time. You'd think that with all his millions, he'd be able to hire a designer to solve his constant wedge problem. But no, he was tugging at the back of his new shorts as much as he ever has.

Roddick: Roddick lost 15 pounds in the off-season. He lost the weight to gain speed. Speed is needed to compete with the top players these days. Fabrice Santoro did Roddick a big favor by knocking out Kohlschreiber in the second round. Kohlschreiber defeated Roddick at the 2008 Aussie Open. I'm looking forward to his next match with Djokovic (assuming Djokovic beats Baghdatis) in the quarters. I'll be cheering for Roddick! Is it just me, or does that KIA logo make you hunger for a Kit-Kat too?
Continue reading "Australian Open (2009) – First Week Roundup"