Canada's CTV Network hast recently started putting full-length episodes of prime TV shows online. CTV is one of Canada's three major television networks. It carries about half of the major U.S. primetime shows in Canada. Global carries the other half.
The new service is available here (see the 'Watch Online at CTV.ca' heading to the right). Episodes can be viewed full screen, though the resolution is quite low by Hulu standards. Episodes are divided into segments/clips, presumably matching how shows are segmented between commercials when broadcast. Canadians can fast forward and rewind or jump from segment to segment. Users cannot, however, fast forward through the short commercials (about 10 to 15 seconds each) that play before some, but not all, segments. So far I haven't seen many commercials. Below is a picture of the interface: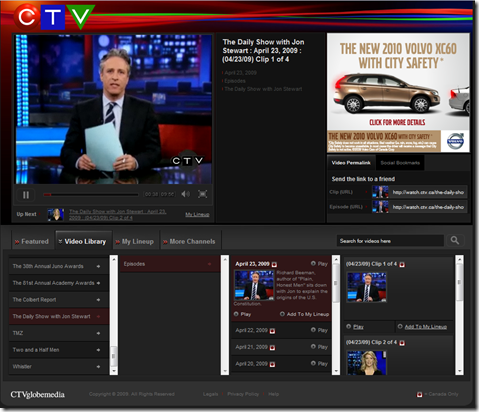 A FAQ is available here. Multiple seasons/episodes of some shows, like 'The Daily Show' are available. Only the most recent of others, like Lost  and Grey's Anatomy, are available. I've tested several shows and so far the system works well – though the resolution certainly needs a boost.
Continue reading "Canada's CTV Puts Full Primetime TV Episodes Online"