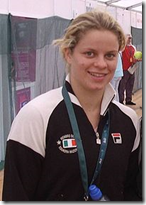 Kim Clijsters is back in Cincinnati this week and has received a Wild Card into the Rogers Cup. She'll be returning to the  U.S. Open in September where she won her first and only grand-slam title in 2003.
Kim was ranked No. 1 in the world for 19 weeks in 2003. She 'retired' to get married and have a daughter.
Whoo hoo! Kim is one of my all-time favorite women's players. I missed her!  Women's tennis needs you! Henin, are you listening?