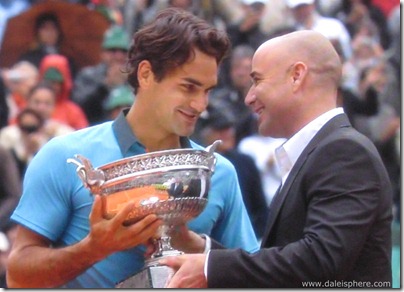 (click images in this post for larger views)
Tying Pete Sampras' 14 slam titles, and with a career grand slam under his belt (only the 6th man in history to do that – Sampras never won the French), Roger Federer is now, undeniably, the best tennis player – ever!
Federer beat Robin Söderling (6-1, 7-6, 6-5) easily. Söderling took down Nadal the prior Sunday, paving the way for Federer's historic win. In the three sets Roger:
lost just 17 points on his serve
wasn't broken
served at 66%
hit 41 winners
suffered only 24 unforced errors

It was fun to watch my all time favourite men's tennis player, Andre Agassi, present the trophies. Having won the French Open 10 years ago and being the last man to win the career grand slam, he was a fitting choice. It was nice to see his wife, Steffi Graf present the woman's trophies.
Continue reading "Federer – The Best Tennis Player of All Time: French Open 2009"