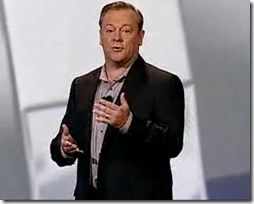 Sony's 2009 E3 Press Conference can be viewed here.  See also my 2008 Sony E3 coverage. Click on images below for larger views.
Exclusive PS3 Games Shown

 God of War III:  (demo'd – coming March 2010 ) Looks terrific! Except, that is,  for Sony's continued reliance on quick time events in boss battles. Grrr! But I still can't wait GoW 1 and 2 were terrific games.

Gran Turismo 5 (polyphony – teaser trailer – still no ship date) – photo realistically gorgeous as you'd expect – first time cars show damage in this franchise – still a SIM that is likely only playable by extreme racing gamers.

Uncharted 2: Among Thieves (demo'd – naughty dog – no ship date – multi-player beta starting immediately) I'm looking forward to this one! Uncharted: Drake's Fortune is still my favorite PS3 game to date. Demo looked terrific but the female lead has changed. Elena Fisher seems to be gone :( 

MAG: 'Massive Action Game' (demo'd – zipper interactive) – 256 online players can play at once – was announced at last year's Sony E3 press conference – It looked impressive! I wonder how they'll ever get teams of 126 people to work together under a few commanders. In my experience, everyone wants to be the commander in online shooters.

Final Fantasy XIV (trailer shown – square enix – 2010) – This being an exclusive was a surprise as was a scheduled 2010 release date – has online play – to be released in the same year as FF13.

MODnation  Racer (demo'd) A customizable cart racer that embodies the play, create, share philosophy of Little Big planet. Users can create and share race tracks, carts and players. They created a track onstage in minutes.
Last Guardian (trailer shown – by Fumito Ueda, creator of Shadow of the Colossus – no date).  A little boy befriends a gigantic dog-creature and take on the world together. That was one compelling trailer!
Agent (Rockstar – announced only) A third party spy thriller coming exclusively to PS3 but not demo'd. No date announced.
Non-Exclusive PS3 Games Demo'd

Assassin's Creed 2 (ubisoft – holiday 2009) – Set in Italian Renaissance,  in Venice – 30 weapon types – now with guns (or at least 'a' gun)! Includes a 'flying machine' invented by DeVinci – Looks good. I'm looking forward to playing it on the Xbox360! 🙂

Final Fantasy XIII: (teaser – no game play shown – square enix – spring 2010) Looked good – pretty much the same as it looked on the 360 yesterday.
New PS3 Motion Controller

New PS3 Motion Controller: The controller has a glowing sphere that the PlayStation eye-toy can track. The demo was more impressive than the Nintendo Wii Motion Plus demo and much  more realistic than the Microsoft motion control demo.
PSP Announcements:

PSP Go: (no surprise – was leaked days in advance) Will not replace PSP 3000 – slide-out controls – integrated wifi & bluetooth – plays same games as earlier PSPs – 50% smaller & 40% lighter than original PSP – 16 GB flash memory – expandable memory – movie and game downloads – $249 U.S. – available Oct 1. in U.S./Europe

Media Go: PC app store for the PSP Go – used to transfer pictures, music and movies to PSP – All PSP titles to be available via downloads going forward. 'Sense Me' application to create custom music playlists on PSP

Movies & TV on PSP: PS3 video delivery service announced last year coming natively to PSP. Note: It's still not available in Canada :( 
PSP Trailers Shown

Gran Turismo PSP (polyphony – Oct 1, 2009) 60 fps – 800 cars – 35 tracks – 65 layouts in tracks – single and 4 person multi-player modes – trading and sharing cars.

Metal Gear Solid: Peace Walker (konami – 2010) 10 years after MGS 3 – true sequel on PSP – set in the 70s – Kojima writing the script
PS3 Notes
22 million PS3s sold globally in 2008 – anticipate 13 million PS3s to be sold in 2010 (I'm not sure if I have these numbers right)
35 Playstation exclusives coming this year (presumably including on PS2 games)
6.5 million 'Playstation Home' users (85% return users) – though I don't know why. Home bites! 🙂
PSP Notes
Games Coming in 2009: They showed a video of many PSP games coming in 2009 including Resident Evil, Little Big Planet, Socom Fire Team Bravo 3,  Motorstorm Arctic Edge & Harry Potter.
24 million users – 11 million in North America
200 titles on PSP so far – 90 are exclusive
Adding Final Fantasy 7 to PSP lineup as of June 2, 2009
Decreasing price of PSP development tools
PS2 Notes
Intend to keep PS2 alive beyond 10 years
sold 9 million more PS2s in 2008
100 new PS2 titles coming out in 2009
Live Blog Coverage
My Thoughts
The press conference and list of PS3 exclusives shown were better than I expected. I'd put the press conference on par with the Microsoft press conference.
I was impressed with their marrying of a motion controller with high-end graphics. Though, as with Microsoft's Natal, they are still only in the prototype stage.
I was a bit surprised that Sony did not announce any social networking functionality like Microsoft and Nintendo did.
The modding functionality of the MODnation game was terrific. The question is, of course, how easy will it be for users to share their mods and what will the limitations be?
The two PS3 game exclusives I'm most looking forward to are God of War III and Uncharted 2: Among Thieves.
Comments
comments