On Sunday March 8, I spent several hours on the phone with both TiVo and Digital River's (TiVo's online license key fulfillment provider) technical support teams.  After installing the generic TiVo Desktop 2.7 software under the Windows 7 Beta , the desktop software would NOT accept my TiVo Desktop Plus License Key. It kept telling me I had an invalid key.
The only solution TiVo's support team had in its database was to reinstall the app – which didn't work when I tried it. Digital River issued me a new license key. The TiVo Desktop 2.7 app rejected that key as well.
After a couple hours and four phone calls we/they all gave up. I was about to try installing the older TiVo Desktop version 2.6.2 when it occurred to me to try running BOTH the installer and the app in Windows Vista compatibility mode.
VOILA!!!! That worked!
TiVo Desktop 2.7 accepted my Desktop Plus License Key and the application has been working fine under Windows 7 beta ever since.
Running The Installer & Desktop App in Compatibility Mode
I do not know whether the installer, the resulting app, or both need to be run in Vista compatibility mode to solve the problem. I ran both in Vista compatibility mode. Since that worked I didn't look into this any further.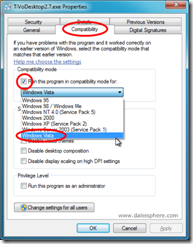 To run each of the installer and the resulting TiVo Desktop 2.7 app in Windows compatibility mode, here's what I did (click image for larger view):
right click on each of the installer and, later, the resulting 2.7 app's, icon
left click 'Properties'
select the 'Compatibility' tab
check the box beside the 'Run this program in compatibility mode;
select 'Windows Vista' from the pull down menu
left click the 'Apply' button
Note, after I did this with the installer app, I unchecked the 'Run TiVo Desktop Now' checkbox that was on the last screen of the installer. I didn't want the app to launch immediately after the installation. Instead, I wanted to separately configure and start it up in Vista compatibility mode because the first thing the app does is pop up the upgrade box where you type in your TiVo Plus license key. Since that's where the problem arose, I wanted to be sure the app was running in compatibility mode before the app got to that point.
Prior Experience with Version 2.6.2 under Windows 7 Beta
I had previously done an in-place Vista to Windows 7 Beta upgrade on the same PC, running version 2.6.2 of the TiVo Desktop software. That worked fine. It was only after I did a fresh (non-upgrade) install of Windows 7 Beta on the same PC and tried to install the newer 2.7 software where this license key problem occurred.
See also: Windows 7 Beta with TiVo Desktop? on the TiVo Community Forum.
Comments
comments