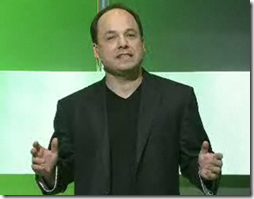 The Microsoft Press Conference can be viewed here. See also: My 2008 Microsoft E3 coverage.
Big Announcements:
Halo Reach: Bungie teased this new Halo game, set for a fall 2010 release. Whoo hoo! If its a Bungie shooter, and it has the name Halo on it, I'm in! Is 'Noble 1', Will Master Chief?
 
Metal Gear Rising: The next Kojima / Konami Metal Gear game is coming to the Xbox!!! Holy Cow! The final coup de gras against Sony.  Kojima seemed genuinely happy to appear on stage for the announcement.
Project Natal: A 'controller free' , full body motion capture, item scanning, facial and voice recognition. Will work on every 360. See demo here. I'll believe it when I see it! I don't believe the Lion's Gate Milo demo pictured on right. It had to be heavily scripted (click for larger view).
New Console Features (coming this fall)
Netflix Queue on 360 will be manageable from Xbox Dashboard (no need to do it on PC anymore)
HD download library being upgraded to full 1080p
Instant 1080p HD Movies/TV – Worldwide: Faster movie downloads. Higher high def. Doubling number of countries where HD TV/video content will be available from 8 to 18
Facebook on Xbox 360 (very much an Xbox 360 look)
Titter coming to Xbox Live
Microsoft Exclusives Coming
New Skateboard Peripheral

Non-Exclusive Demos Shown
Beatles Rock Band. Likenesses of the Beatles sing and play along as you play the game.
Call of Duty: Modern Warfare 2 (Infinity Ward – looked great!)
Final Fantasy XIII (spring 2010)
Tony Hawk Ride – using new skateboard peripheral (see below)
Live Blog Coverage:
My Thoughts
I enjoyed their focus on games and not things like console sales or attach rates.  I'm most looking forward to Halo Reach, Call of Duty: Modern Warfare 2, Halo ODST, Crackdown 2 and Alan Wake.
I don't believe that Project Natal will do all that it is promising. It seems to be more a 'vision', 'proof of concept', or 'goal'. As far as I know, no actual shipping product was announced.
I'm delighted to see that Microsoft has finally got the last major PS3 third-party exclusive franchise (metal gear) coming to the 360.
I was disappointed that there were no more details about Zune HD integration. I continue to be sad that Microsoft continues on with its ridiculous Microsoft Points system.
 [Update: Post press conference Microsoft announced FULL game downloads for real money (not Microsoft Points) via credit card. This is a big deal! Coming in August. See this Gizmodo post. Still sketchy on details – whether it will apply to other content like HD movie downloads.]
While Twitter, Facebook and Last.fm are nice, I won't use them on the 360 – especially without a keyboard.
Comments
comments