(3.5/5) – screwball comedy, romance
Reference:

|

| TCM
Reviews: IMDb External Reviews | Rotten Tomatoes (80%)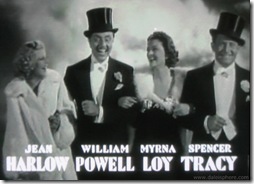 While deftly putting off an inevitable marriage to his fiance (played by Jean Harlow), in Libeled Lady (1936) the editor of a New York paper (Spencer Tracy) hires a reluctant former employee (William Powell) to seduce the daughter of the owner of a rival publication (Myrna Loy) to ward off a libel suit.
Libeled Lady is one of 14 films starring the wonderful Powell and Loy duo. Ironically it lost the 1936 Best Picture Oscar to another of their collaborations, The Great Ziegfeld (1936). TCM's Robert Osborne believes Libeled Lady was the better of the two. (Having not yet seen Ziegfeld, I'll reserve judgment).

While Powell and Loy are one of the most famous onscreen couples in movie history, at the time this movie was being made Powell and Harlow (19 years his junior) were engaged to be married. Sadly, Harlow died of kidney failure just two years later at the age of 26.

It was a treat seeing two of my favourite leading men together for the first time. And having seen 8 of the Powell-Loy movies, It's always a pleasure to watch them together.

Powell and Loy, with their undeniable chemistry, were terrific as usual. Tracy in his first comedy was just OK. Dramatic roles are his forte. I don't understand how Jean Harlow was considered a sex symbol in her day. Her voice grates on my nerves and, in this movie at least, she's rather obnoxious.

As was common for the era, the story is implausible and rather goofy. But, I'm a sucker for Powell and Loy (one of the most beautiful and classiest women in the Hollywood history), so that's OK with me. The movie gets better as it gallops towards the finale. I laughed frequently and enjoyed it quite a bit.
Comments
comments