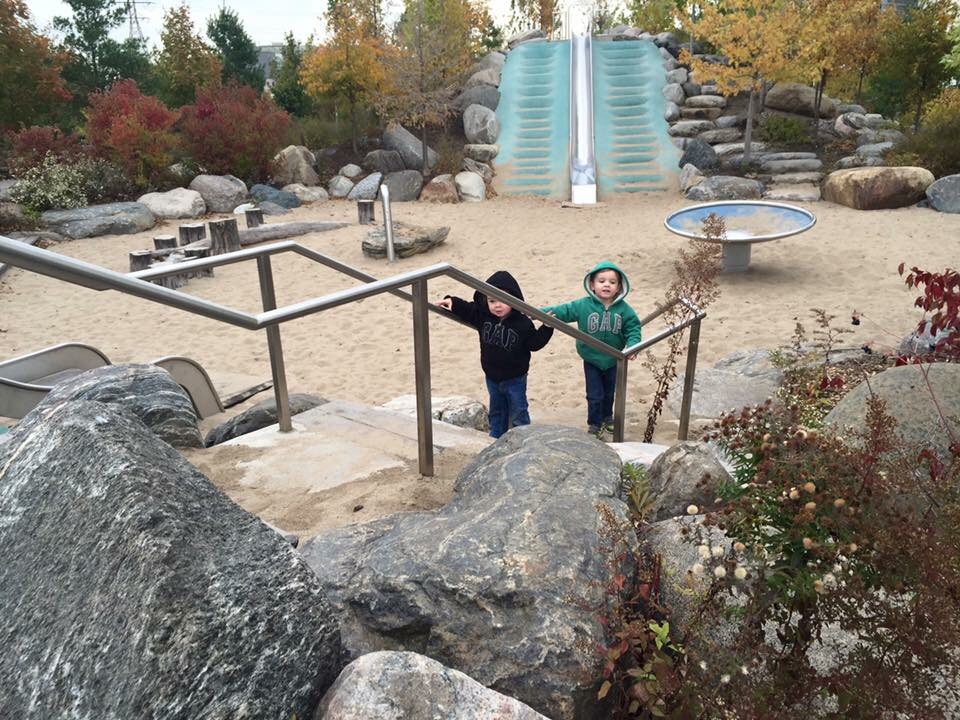 While admittedly pretty and new, in my opinion, Corktown Common is the most overrated park in the city. It gets almost universal acclaim yet it has very few play structures for kids. A big slide, a smaller slide, a teeter totter, some swings, a water faucet to get them dirty  (Ugh!) and a cool splash pad (open only from end of June till Labour Day). That's pretty much it. It's stroller unfriendly.  There is ZERO shade for hot days – hence we go on cloudy days.
One thing I do like, however is there is a large public raspberry bush that you can pick raspberries from in June and July. It also has terrific bathrooms when open (was open at lunch time on Oct 20 but drinking fountains were shut off).
The park is located at north west intersection of the Don Valley Parkway and the Gardener on the East Side of what was the Pan Am Athletes village. As of fall 2015, parking is a killer here. There are scant few spaces a 10 minute walk from the playground. Hopefully once the construction concerning the athlete's village to condos is complete there will be better parking options
Certainly worth checking out, but as you can see from my reviews, there are any number other parks, playgrounds and nature trails,  I would recommend to parents of toddlers and pre-schoolers before this place.
Comments
comments