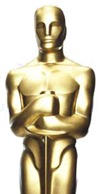 Reference: Roger Ebert's 09 Oscar Page | Official Oscars Website | IMDb Oscar 09 Page | Wikipedia 81st Academy Awards Page
Here are my thoughts/picks for the major categories of the 81st annual Annual Academy Awards show- to be held on February 22, 2009. Links in this post are to my reviews of each on The Daleisphere. The rating I gave each to each appears in (parenthesis). Movies where I indicate [RCS ] indicate a 'review coming soon'
The Curious Case of Benjamin Button has 13 nominations, Slumdog Millionaire has 10, The Dark Knight and Milk each have 8 nominations, Wall-E has 6 and each of Doubt, Frost/Nixon and The Reader have 5.
Best Picture
Slumdog Millionaire should win Best Picture and I predict it will win. It was the best picture of 2008.
I rated each of the following movies 5 out of 5 in my reviews. In my opinion, each were better overall movies than those nominated other than Slumdog Millionaire:
Still, I would give the Best Picture Oscar to Slumdog Millionaire.