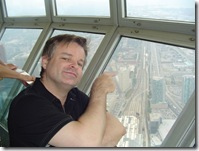 Welcome to 'The Daleisphere'.
My name is Dale Dietrich. I'm both an Ontario and California lawyer residing in Toronto Canada. My practice is focused on serving my technology, video game,  interactive media and life sciences clients.
The scope and objectives of this blog are described in my inaugural post here.
My goal is to provide a light hearted and attractive enthusiast blog on the topics that I am most passionate about. While the posts will be web 2.0 and technology centric, they'll also include coffee, wine, movie, book and video game reviews, how-tos and posts about professional tennis, public policy, cooking and healthy living.
I can be reached at 'info AT daledietrich DOT com'. You can follow me on Twitter at http://twitter.com/daledietrich.
My professional blogs are here:
Enjoy.
The Daleisphere Bridge