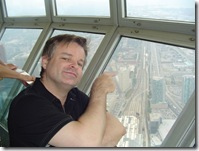 Welcome to 'The Daleisphere'.
My name is Dale Dietrich.The scope and objectives of this blog were described in my inaugural post back in 2008:
The Daleisphere will be about what I know – topics within the 'sphere' of 'Dales' interests …
As a single guy at the time, those interests were primarily concerned with technology, health and fitness, movies, video games, interactive media public policy, politics, wine and coffee.
Since then I have married and became the father of two terrific kids. Hence, the addition of a great many 'kids in Toronto' focused posts of late.
I am a lawyer residing in Toronto Canada. My practice is focused on serving the technology, video game, technology, interactive media and life sciences legal needs of my clients.
I can be reached at 'info AT daledietrich DOT com'. You can follow me on Twitter at http://twitter.com/daledietrich.
My now defunct professional blogs are/were here:
Enjoy.
The Daleisphere Bridge