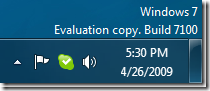 I did an in-place Windows 7 Release Candidate (build 7100) upgrade on April 26, 2009.  For changes made from the beta version of Windows 7 to Release Candidate 1 see:
Below are my first impressions and initial observations:
The Good
The System Seems Snappier: Moving from Vista to Windows 7 Beta provided a substantial performance boost to my system. After 1 hour or so, the system seems somewhat snappier still.
Faster Access to Remote Drives: Navigating to and around my Drobo Drive (shared from another XP system on my network) seems dramatically faster than it was under either XP, Vista or Windows 7 Beta). This was a major annoyance under the Windows 7 Beta which was worse than under XP or Vista.
System Search Indexing Problem Fixed:  During my first couple months of using Windows 7, the Start menu search function (eg: searching for, say, 'device manager') had indexing problems where it took 30 seconds to a minute to search for and find system files/apps. It stemmed from customizations I made to the indexing options. I was never able to recover from whatever I did. After this upgrade the system search is wicked fast again!
The Not So Good
Start & Taskbar Icons/Apps Changed: The applications that I had pinned to the customized start menu were removed and the defaults put back. Default apps that I had removed from the taskbar (eg: Windows Media Player and Internet Explorer) were put back. But apps I had added to the taskbar were still there.
Jump Lists Gone: All my Windows 7 jump-lists (eg: for Windows Explorer) were knocked out. It didn't take long to put them back however.
Notifications Default Changes: The default notifications settings I had for apps in the system tray (a.k.a. notification area) were changed (probably back to defaults).
Snap to Grid Turned Back On: I had 'snap to grid' turned off for desktop and gadget icons. That was turned back on.
Realtek Audio Driver Issue: The upgrade knocked out my Realtek AC'97 Audio driver. I downloaded the driver from Realtek's download site here and re-installed without a problem.
Hibernation/Sleep Problem Persists on my Dell XPS 600
My biggest disappointment with Windows  7 Beta was that it didn't satisfactorily solve my on-going sleep/hibernation problems. Sleep and hibernation never worked properly on my Dell XPS 600 system (not in XP, Vista or Win7 Beta build 7000). Alas, the problem persists under the release candidate.
Since hibernation and sleep now work flawlessly in Windows 7 (both beta and RC1) on my Lenovo ThinkPad, there must be something unique to my XPS that consistently makes this function not work properly. In my case, when I put the machine into hibernation, it sets out to go into hibernation mode but within a minute wakes itself back up automatically.
Happily, Windows 7 shuts down and starts up so much faster than it did under XP or Vista that it is not such a pain to shut down any more.
See also:
Windows 7 Release Candidate Review (Paul Thurrott)
Windows 7 Release Candidate (Harry McCracken)
Comments
comments