Official Wimbledon Site | Men's Draw | Ladies' Draw |


Wow! John McEnroe opined that the 2008 Wimbledon men's final was the best match he'd ever seen. At 4 hours and 48 minutes it was certainly the longest (the previous record was the 1982 Connors v. McEnroe final at 4 hours, 16 minutes). I loved it, stomach twisting and turning all the way.

In the end Rafael Nadal won the a gut-wrenching five set 6-4, 6-4, 6-7, 6-7, 9-7 match that spanned two rain delays and threatened to go into Monday. Nadal had two championship points in the 3rd and 4th sets that Roger Federer managed to stave off. But Nadal was just too good. As hard as it is for me to say it, Nadal deserved that win. Point for point he chased down everything Federer threw at him.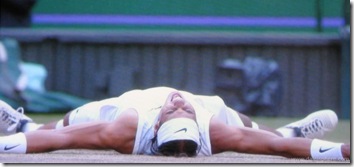 (Nadal collapses after his hard-fought win)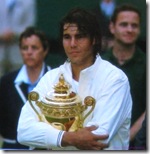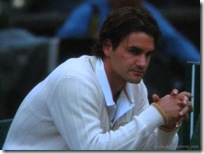 (Nadal hugs trophy – Federer contemplates defeat)
—————————————–

We had an all-Williams final for the first time in 5 years. Venus won, Serena pouted, Richard went home early. The Williams' sisters also won the Women's doubles final, cumulatively 'netting' 🙂 them $2.5 million at Wimbledon 2008. Not bad.

Since NBC chose to show all of the William's sisters round of 16 matches, all their quarter-final, both their semi-final matches, and even some of their doubles matches (at the expense of many other terrific matches – see my rant here), by the time of the ladies' finals came around, I had seen more than my desired share of the Williams' sisters for one week!
—————————————–

One of the other highlights of the second week was the terrific five set, come-from-behind, round of 16 match between the 12th seeded Scot, Andy Murray, and the 8th seeded Frenchman, Richard Gasquet. I confess that I've never much liked Murray – seems like a bit of a rich and spoiled hothead to me. But the Brits went wild cheering the local boy as he put on a terrific show with some spectacular shot making.

Earlier in the week he got into a bit of a friendly spat with John McEnroe as to whether Murray was fit enough to win a grand slam. On winning the Gasque match, he displayed his biceps as a seeming retort to the McEnroe criticism. Nadal ultimately took him out easily in straight-sets in the quarterfinals.
—————————————–

The two rain delays we waited through in the Federer-Nadal final will be the last we'll have to endure at Wimbledon thanks to the new retractable roof that will be finished for Wimbledon 2009. Unfortunately the retractable roof doesn't mean we'll have night matches next year. The retractable roof is transparent. Dang Brits and their traditions!
—————————————–
All-in-all, Wimbledon 2008 was one terrific tournament with several matches that I'll never forget – especially that final!
Comments
comments