Official Wimbledon Site | Men's Draw | Ladies' Draw |


The first week of a grand slam usually offers terrific tennis. This week was no exception. There were some major upsets and terrific matches.  See my "Wimbledon 2008 Begins" post for my Monday observations.
There was a touching moment (depicted in the picture above – click for larger view) this week when Richard Williams went over and shook the hand of Mr. Keothavong after Richard's daughter Venus beat his daughter Anne 7-6, 6-2 in the 2nd round. Mr. Keothavong was clearly impressed.
Tuesday – Davenport Injury
It was difficult to watch my all-time favourite woman's player, Davenport's,  struggle with an 'aggravated' knee (an MRI after the match revealed inflammation behind the knee cap – not a permanent injury). Davenport's career is near and end. It was sad to see her bow out on Thursday. But in an interview on Thursday she said she'll be ready for the Beijing Olympics in a few weeks.
Wednesday's Matches
Two of Wednesday's matches are prime examples of why watching early round grand slam matches can be so fulfilling:
Nathalie Dechy and Ana Ivanovic played three nail-biting sets. As much as I like Ivanovic I was cheering for Dechy all the way. What terrific play. But for an Ivanovic shot that barely dribbled over the net on match point in the 2nd, 97th ranked Dechy would have won the match against the current world's number 1.  Below Ana is kissing the part of the net where the ball hit the net chord.
The 75th ranked feisty and unpredictable, Marat Safin, was able to oust 3rd seeded, Novak Djokovic, in three thrilling straight sets.
[July 4, 2008 Update: Safin lost Federer in the semi-finals.]
Thursday
My admiration for Dinar Safina started with her taking down Sharapova in the 2008 French Open. I had some considerable pleasure watching the 154th ranked unknown, Alla Kudryavtseva, take out Sharapova in the second round on Thursday. It's a relief to know I won't have to watch that self-absorbed squealer for the rest of the tournament. 🙂
[June 30 , 2008 Update: Alla ultimately lost to Nadia Petrova in the round of 16.]
Unfortunately James Blake lost a long five set disappointment to Rainer Schuettler. I really like Blake but no matter how far he gets I always just assume he'll loose because 8 out of 10 times I've watched Blake play and got exited for him – he lost.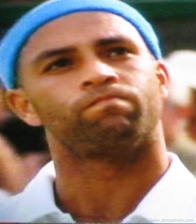 [July 4, 2008 Update: Schuettler lost Rafael Nadal in the semi-finals.]
As sad as it was to see Andy Roddick lose, Tipsarevic outplayed Roddick. Tipsarevic is an underrated player who I'm really starting to enjoy watching. He played an unforgettable first week 5 setter against Federer at the 2008 Aussie Open that I'll never forget. He has since beat both Nadal and Djokovic. He deserves whatever bump in his ranking that he gets.
[July 2, 2008 Update: Tipsarevic lost to Schuettler in the quarter-finals.]
Friday
131st ranked Zheng Jie had previously won Wimbledon 2006 doubles but had never beaten a top ten singles player. I was cheering for her as she easily beat Ivanovic 6-1, 6-4. While I have nothing against Ivanovic, I feel her rating is higher than her skill. She hadn't played well in the tournament. She got past Dechy in round 2 by the skin of her teeth.  She is not a consistent player and hasn't yet learned how to manage her emotions – crying during a changeover in the middle of the second set. Jie was reminding me a little bit of Henin. Scrappy, going for every shot. I'm looking forward to watching more of her.
[July 4, 2008 Update: Jie ultimately lost to Serena Williams in the semi-finals.]
Comments
comments