Official Wimbledon Site | Wimbledon Live | Men's Draw | Ladies' Draw |

With the exception of Nalbandian (7), all the major seeds advanced to the second round including: Federer (1), Djokovic (3), Hewitt (20), Safin, Gonzalez (15), Baghdatis (10), Ivanovic (1), Kuznetsova (4),  S. Williams (6) and Mauresmo (20).
Tomorrow
Tomorrow we'll see the first round matches of: Nadal (2), Davydenko (4), Roddick (6), Blake (9), Murray (12), Fish, Tipsarevic, Jankovic (2),  Sharapova (3), Dementieva (5), V. Williams (7), Safina (9) and, my favourite, Davenport (25).
The Canadians
Canadian Frank Dancevic made it through to the second round. Stephanie Dubois lost in the first. Aleksandra Wozniak plays her first match tomorrow.
Can Roger Win It?
Ever since Nadal wiped the floor with Federer in the French, the press has been a-buzz with talk about whether Roger can win Wimbledon again.  I say, of course he can. He's won 5 straight Wimbledons. Why not another? Every great player goes through lean times. He had no problem knocking out his buddy Hrbaty in straight sets today. My money is still on Federer to take a 6th straight victory.
Challenge Rule Change
This year players are allowed three challenges per set, plus 1 in a tie-break. Last year they were only allowed two challenges.
New Retractable Roof – Almost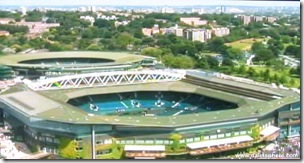 The retractable roof is still a work in progress. It is taking Wimbledon three full years to add this much needed retractable roof. As you can see in the picture above, the trusses are in. But the roof won't be added to the movable trusses until next year. Thankfully the weather forecast  for the next few days is much more favourable than last year's soaker with 22 frustrating rain delays in 13 days of play.
ESPN 2 Weekday Coverage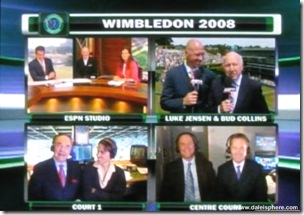 Thank goodness The Sport's Network is providing ESPN 2 coverage with its 9 season's commentators:  Chris Fowler, Brad Gilbert, Mary Joe Fernandez, Dick Enberg, Mary Carillo, Cliff Drysdale, Patrick McEnroe, Luke Jensen and good old Bud Collins. What a difference  from the abysmal Super Signal coverage Rogers provides for the French Open.
New ESPN 2on-screen Scoring
ESPN2 has a new on-screen scoring system (circled in red in the left picture – click on it for a larger view). The score is now shown across the top of the screen. It takes a bit of getting used-to, but it is an improvement over the old score grid(shown in the right picture) that covered up part of the play. Adding to the frustration of the old grid, TSN's scrolling sport-highlight banner would often cover up the bottom of the old grid for minutes at a time. This is a welcome change.
New Electronic Scoreboards
Wimbledon is really coming into the modern era. They now have electronic scoreboards for the first time.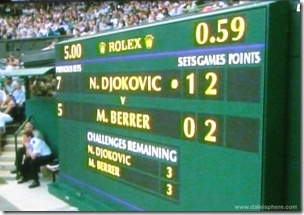 Who knows, they might even put in lights for night matches one day! 🙂
NBC HD Coverage?
NBC's promo last weekend was promising HD weekend coverage of Wimbledon. If they do, it will be the first time. In the past NBC carried a 4 x 3 SD digital signal on their HD channel. But, since they provided the 2008 French Open in true HD for the first time, I'm very hopeful I'll get to see Wimbledon in HD for the first time. With HD coverage of the Aussie Open, we'd mark a new era of year-round North American weekend coverage of all four slams in HD. I'll drink to that!
Comments
comments