Reviews: Roger Ebert | IMDb External Reviews | Rotten Tomatoes 59% | Metacritic 58%
The Reader (2008) is a powerfully complex movie, both beautiful and sorrowful, romantic and tragic.
Kate Winslet is within my top 10, perhaps top 5, all time favourite actresses. She is once again fantastic here – playing a compelling character that I simultaneously felt empathy and revulsion for. It's a sin that 6-time-nominated Kate Winslet has never won an Oscar. She 'should' be a shoe-in for best Actress for this performance.
The most poignant line from the movie is 'It's not what you think, its what you do that matters'. The surprisingly good newcomer, David Kross convincingly played a naive teen and a mid-20's law student struggling, years later, with what to think and what to do.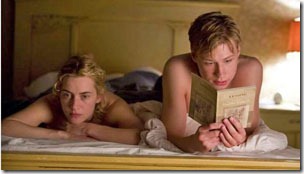 Ralph Fiennes, playing a character the polar opposite of his most famous role in Schindler's List (1993). His performance was typically strong but not as memorable as those of Kross and Winslet.
Ebert sums up the essence of the movie well:
"I believe the movie may be demonstrating a fact of human nature: Most people, most of the time, all over the world, choose to go along. We vote with the tribe."
It's unfortunate that the primary plot points are revealed in every trailer. I will not reveal them here because the experience would have been much more fulfilling had I not known where the movie was going from the beginning.
While terrific, aspects of the ending struck me as somewhat unbelievable. Otherwise this movie would have rated a 5 of 5. I am flummoxed by the poor aggregate review scores at Rotten Tomatoes and Metacritic. This movie is one of the best films of 2008. There were few dry eyes in my theatre.
Comments
comments