Reviews: Roger Ebert (2.5 of 4) | IMDb External Reviews | Rotten Tomatoes 71% | Metacritic 70%
I had no desire to see The Curious Case of Benjamin Button (2oo8). I did because it the only 2008 film nominated for the Best Picture Oscar that I hadn't seen. My instincts were right.
It's a story about a person, born into a baby-sized, old-man's body, that ages backwards. The story works, but to a point. I can't help but think a more apt title would be 'Mork from Ork meets Forrest Gump'. It was similarly narrated and slowly paced. Unfortunately it didn't hold my interest for it's whopping two hour and 45 minute length! Bring a seat cushion! 🙂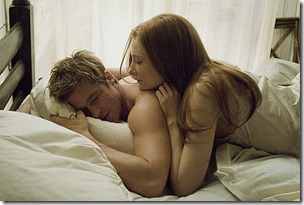 [Update: After writing this review, I discovered why I instinctively felt this movie was similar to Forest Gump – they share a screen play writer: Eric Roth – Take  a look at this funny, comparative, Benjamin Button = Forrest Gump? video – scroll down a bit to get to the video.]

Brad Pitt was good in this movie. It's a good thing he's easy on the eyes because there's a LOT of him in this movie. Cate Blanchett, on  the other hand, didn't fit. She wasn't lovable. I could see how a little boy would be enchanted by

Elle Fanning (Dakota Fanning's little sister), the younger version of Cate Blanchett in this movie. But, I couldn't imagine that an adult version of Brad Pitt would hold a 'Jenny-like', life-long infatuation with Cate Blanchett's character. 
The movie was beautifully directed by David Fincher, whose previous Zodiac (2007), Fight Club (1999), The Game (1997) and Se7en (1995) were all quite good. The special effects were startlingly good. I don't know which was more difficult, convincingly putting a decrepit old man that looks like Brad Pitt into a child-sized body, or making Brad Pitt believably appear to be in his late teens. Either way, this movie sets a new standard for aging/de-aging special effects.
It is a visually beautiful movie best enjoyed on a large screen – that is if you have the patience to sit through a plodding movie that is just 15 minutes short of three hours! Much could have been cut from this movie – a side romance with the terrific Tilda Swinton (a deserving 2007 Best Actress winner for Michael Clayton ) for for example. Any number of actresses, including Julia Ormond who had a smaller narrator part, could have provided a more convincing lead than did Blanchett.
Taraji P. Henson was nominated for best supporting actress for her role as Button's adoptive mother. But for the nomination I wouldn't have mentioned her. While her performance was solid, to my mind there was nothing Oscar-worthy about it. I was more taken by Julia Ormond's minor role than Henson's.
Despite some promising elements, in the end the movie left me eager for it to end, which is never a good thing.
Comments
comments