Categories: broadcasting • canada • interactive media • internet • software • tv
Tags: hotspot shield • hulu • pandora • u.s. open

Back in May, 2009 I reported that Hulu had managed to defeat Hotspot Shield. As of September 9, 2010 the latest Hotspot Shield seems to be effective at defeating Hulu's anti-circumvention measures.
At this moment I can access each of:
Hulu: I can access full episodes of shows on Hulu now. Below, for example, is Episode 2 of Season 1 of MasterChef: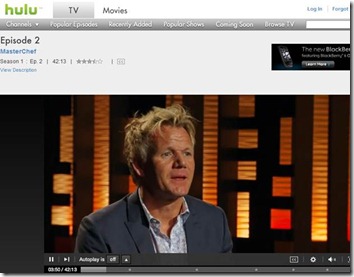 Pandora: I had happily used Pandora for a long time before they cut off access to Canadians. I'm delighted that I can access it again.
Categories: interactive media • tennis
Tags: channelsurfing.net • myp2p • streaming • u.s. open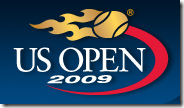 As usual, Americans can watch live streams of 2009 U.S. Open tennis through the US Open 2009 Website.
Also, as usual, Canadians and the rest of the world can't.
Below, I include links to two services offering live streamed 2009 U.S. Open tennis matches. When I tested these sites on Monday August 31, I could find every match I wanted to watch in English.
To schedule your viewing, the U.S. Open Tennis 2009 play schedule is here.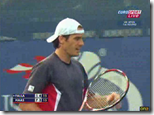 You can find several matches on MyP2P. You may have to click around awhile to find one that works and/or is showing the match you want in the language of your choice. Some links require a plug-in to be downloaded. I don't trust them. I only access those that play without a plug-in.