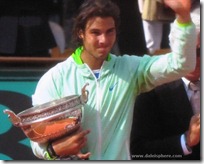 Overcoming his surprising French Open 2009 defeat to Robin Soderling, Nadal easily beat his clay-court nemesis in this much-anticipated rematch.
This win is Nadal's fifth French Open title and seventh grand-slam win. Nadal need only win one more French Open to match Borg's record 6. He also tied Borg's record of two French Open tournament's without losing a set.
The first set was terrific. It looked like the maturing Soderling might do it again. But Soderling collapsed in the 2nd and third sets. Despite the tough first set, Rafael easily won the match.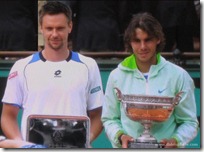 It was a bit surprising how emotional Nadal was after his win. Having lost the French last year, followed by pulling out of Wimbledon, being injured for much of 2009 and having gone through the remainder of the year without winning another tournament, Nadal may have been questioning whether he had another slam in him. Given the caliber of his French Open play, I have little doubt that Nadal  has several more slams in him.
In his post game interview with John McEnroe, Nadal made the point that he is looking forward to the U.S. Open – the only slam he hasn't won. This is interesting because normally players would say they were looking forward to Wimbledon.