Reviews: Metacritic 65%| Game Rankings 68% | zero punctuation
Reference: GameFAQ |


Developer: Silicon Knights, Engine: Proprietary Genre: Action-RPG
Status: Abandoned after 3 hours
Pros: beautiful, well-rendered environments – user selectable save points – good graphics/character models – solid cinematic production values – good death/penalty system – online co-op (though oddly without story elements)
Cons: no camera control – nausea inducing – story didn't grab me – too complex for little pay off – too much button mashing – ballistic aiming was poor – too much HUD – no story/direction screen
As a Canadian, with the Silicon Knights development studio just a few miles across Lake Ontario from me in St. Catherine's Ontario, I felt obligated to give Too Human a try. Plus, after listening to dozens of interviews by Denis Dyack and with all the controversy swirling around this game, I was curious.
I made it just past the point where you have to choose to go the human or cyborg paths (about 3 hours in) where I abandoned the game. I'm generally not an RPG-playing, leveling-up, inventory-managing, kind of guy though I enjoyed both KOTOR and Mass Effect enough to finish them (I similarly abandoned Oblivion after a few hours, though I made it through a good 10 hours or so of Morrowind).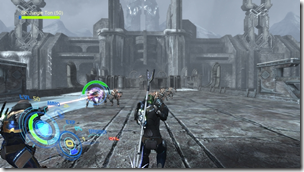 Camera Control Issue
Lack of camera-control is one of my bigger video game pet-peeves. Too Human is one such game. I listened to Dyack go on and on about the cinematic advantageous of allowing the game to control the camera – analogizing that movie viewers don't control the camera. Sorry Denise, movie-goers are passive by definition. While your game was among the better games without camera I've played, every game like this is a loser for two big reasons:
they always make me nauseous (Too Human was no exception); and
I need/want to control my view to fight the battles the way I want to fight them – not the way a game designer intends.
I've only played a few games to the end that did not allow me to manage the camera: God of War 1, God of War 2 and Munch's Odyssey. Most others I won't even try. I've never managed any in the Resident Evil series for more than 10 to 15 minutes without needing to toss my cookies.