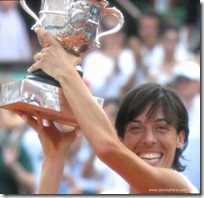 In what will probably be her only grand slam win, veteran Francesca Schiavone beat Samantha Stosur  6-4, 7-6 to win the 2010 French Open – a few days shy of her 30th birthday.
I must admit that I know little about Schiavone.  Turns out she is the first Italian woman to win any grand-slam in the modern era.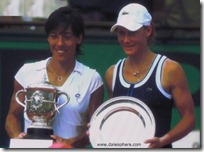 Aussie Stosur was rather emotionless. Schiavone played with passion and grit. It was a pleasure to watch. The tennis quality from both was high. The match was terrific.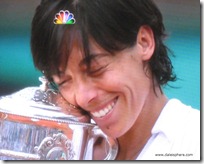 Stosur did the heavy lifting for Schiavone having previously taken out world #1 Serena Williams 6-2, 6-7(2), 8-6, four-time French Open winner Justine Henin 2-6, 6-1, 6-4 and world #4 Jelena Jankovic 6-1, 6-2.
Ultimately, it was nice to enjoy a well-played women's French Open final. Something that doesn't happen often enough.