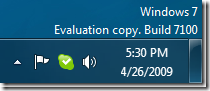 I did an in-place Windows 7 Release Candidate (build 7100) upgrade on April 26, 2009.  For changes made from the beta version of Windows 7 to Release Candidate 1 see:
Below are my first impressions and initial observations:
The Good
The System Seems Snappier: Moving from Vista to Windows 7 Beta provided a substantial performance boost to my system. After 1 hour or so, the system seems somewhat snappier still.
Faster Access to Remote Drives: Navigating to and around my Drobo Drive (shared from another XP system on my network) seems dramatically faster than it was under either XP, Vista or Windows 7 Beta). This was a major annoyance under the Windows 7 Beta which was worse than under XP or Vista.
System Search Indexing Problem Fixed:  During my first couple months of using Windows 7, the Start menu search function (eg: searching for, say, 'device manager') had indexing problems where it took 30 seconds to a minute to search for and find system files/apps. It stemmed from customizations I made to the indexing options. I was never able to recover from whatever I did. After this upgrade the system search is wicked fast again!
Continue reading "Windows 7 Release Candidate First Impressions and Observations"