Categories: consoles • industry • interactive media • video games
Tags: e3 • ps2 • ps3 • ps3 exclusive • psp • sony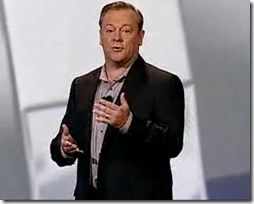 Sony's 2009 E3 Press Conference can be viewed here.  See also my 2008 Sony E3 coverage. Click on images below for larger views.
Exclusive PS3 Games Shown

 God of War III:  (demo'd – coming March 2010 ) Looks terrific! Except, that is,  for Sony's continued reliance on quick time events in boss battles. Grrr! But I still can't wait GoW 1 and 2 were terrific games.

Gran Turismo 5 (polyphony – teaser trailer – still no ship date) – photo realistically gorgeous as you'd expect – first time cars show damage in this franchise – still a SIM that is likely only playable by extreme racing gamers.

Uncharted 2: Among Thieves (demo'd – naughty dog – no ship date – multi-player beta starting immediately) I'm looking forward to this one! Uncharted: Drake's Fortune is still my favorite PS3 game to date. Demo looked terrific but the female lead has changed. Elena Fisher seems to be gone :( 
Categories: reviews • video games
Tags: insomniac • nausea • ps3 exclusive • resistance • resistance fall of man
Reviews: Metacritic 86%| Game Rankings 87% 
Reference: Trophies – none|


Walkthrus: WikiCheats | GameFAQ | IGN
Developer: Insomniac Games
Engine: Insomniac Engine
Note: The pros and cons portion of this post was written in  April 2008. I am posting this entry on November 4, 2008 – the day I purchased Resistance 2. I have back-dated this post to April of 2008 to reflect the time period when I played the game.
Initial Experience – Pre Rumble
I picked up Resistance Fall of Man (RFoM) the day I purchased my PS3 in August of 2007). However, my initial experience wasn't good. After years of playing console-based shooters on my Xbox 360, RFoM didn't feel right without rumble – regardless of its merits. After a level or two, the game was set aside … until …
Resistance Fall of Man – Post Rumble – Ummm…. Good!
In mid April, 2008, Sony finally released the Dual Shock 3 controller with rumble. After figuring out how to get rumble to work (details here), I gave the game another try.  I'm glad I did. I liked it so much I played through the entire game and then played 50% of it through again on the hardest level.
I was surprised and delighted with how much I enjoyed the game. It took me awhile to get into it but was really enjoying it once I figured it out (especially the unique weaponry).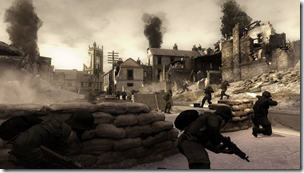 Categories: reviews • video games
Tags: camera • naughty dog • nausea • ps3 exclusive • uncharted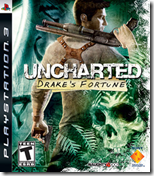 (5/5) – action – adventure
Reviews: Metacritic 88%| Game Rankings 89.69%
Reference: 


Developer: Naughty Dog Engine: Naughty Dog proprietary
[Note: This mini-review predates the founding of the Daleisphere. It was culled from an email I wrote to friends about the game in early December 2007.]
Just finished the PS3 exclusive 'Uncharted: Drake's Fortune'.  Prior to this game, the most fun I had on the PS3 was playing the PS2 titles God of War 1 and 2.  Finally, a PS3 exclusive that is top notch.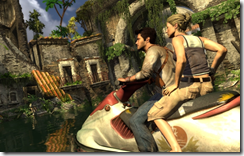 This is an THE BEST action adventure game I have ever played. Very much in the tradition of Laura Croft, Indiana Jones, Prince of Persia and many others, but with much, much more. I've never quite played anything like it.
Naughty Dog really took advantage of the PS3. It has more "realism, and is more cinematic than any video game I've played. The story is terrific – the most "adult" (in the sense of mature, developed characters – not simplistic and juvenile) video game story I've experienced. They hired real actors to play the characters and the actors participated in both the motion capture and voice work – simultaneously. A rarity in video games. The result was wonderful.