Categories: geek • how-to • iPhone • resolving tech problems • software • utilities • windows 7
Tags: iphone 4 • iphone 4s • jpeg lossless rotator • jpg • photos • rotate • windows 7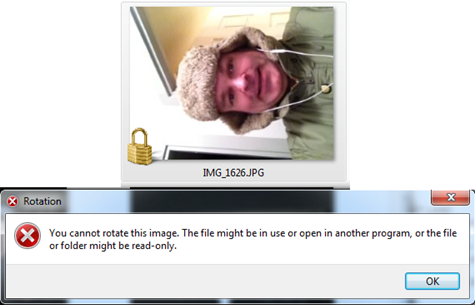 There is a known Windows 7  rotation issue with portrait photos taken with the iPhone 4 and 4S. Unlike with the 3G or 3GS, photos taken in portrait mode on the iPhone 4 and 4S do not auto-rotate when imported in to Windows 7. This is the case: (i) whether you sync your photos via iCloud; or (ii) whether you physically import them via USB; even when you explicitly set the Windows import utility to auto-rotate them on import. The issue is being discussed here, here , here and here on the Apple support forums and here on the Microsoft support forum.
To make matters worse, a good portion of these photos end up locked in such a way that you cannot subsequently rotate them with the various photo rotate tools built in to Windows 7 (see error message in the image above).