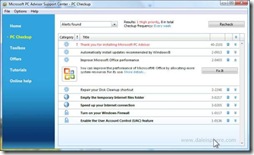 Here's another Paul Thurrott tip from the Windows Weekly 81 podcast (also discussed on his blog here).
Microsoft's free PC Advisor (download here) falls into the 'does no harm and just might help' category. I would recommend it to friends and family who find their computer is having problems. Hey, it can't hurt.
I downloaded it (here) and installed it all of my Vista 64 and XP machines. I run a pretty tight ship so I wasn't expecting much. As you can see from the pictures below, it recommended I take certain actions to speed up my PC, clean things up, update software etc.
Continue reading "Give your PC a Check-up with Microsoft's PC Advisor"