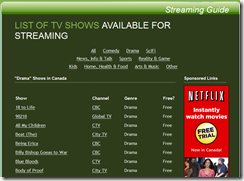 Because there is no Hulu in Canada,  in the past I have written about various, albeit limited, online TV streaming resources available to Canadians (see, for example here and here). 
Today I received an email from Seppo Sahrakorpi of Pilvi Computing announcing his new 'Streaming Guide' which links to all the disparate TV streaming offerings available to Canadians. I tested it and it works well. The interface is rather sparse, yet simple and effective.  It's a simple alphabetical list of all TV shows that can be watched online in Canada. You can sort by various genres.
While this worked well on my PC, unfortunately, owing to the iPad's lack of support for Flash, I couldn't get any of the shows I tested to work on my iPad.

Putting this together must have been an awful lot of work. What's more, to keep it up-to-date, will require a herculean ongoing effort. Let's hope Seppo is up to the task!  Thanks for all the hard work Seppo.
NOTE: Last I tested it, Hotspot shield still allowed Canadians full access to Hulu.