Categories: consoles • industry • video games
Tags: e3 • metroid other m • nintendo • user generated content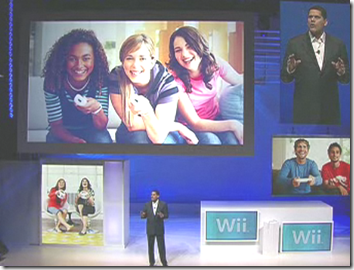 Nintendo's 2009 E3 Press Conference can be viewed here. This has to be the most boring E3 conference I've ever watched.  See also: My 2008 Nintendo E3 coverage.
Announcements
Multiplayer Mario co-op: (holiday 2009 – yawn)
Wii Fit Plus: 6 new exercise modes, 15 new balance games, available as software-only (fall 2009)
User Generated Content: Some user generated DS content initiatives discussed:

FlipNotes Studio: animation drawing app (this summer)
WarioWare DIY: Microgame creator
Mario v. Donkey Kong: Minis March Again – level editor and online sharing (DSi – June 8, 2009).
Will be able to upload DSi pictures to Facebook this summer.

 Wii Vitality Sensor: Monitor health, pulse. Some kind of health / relaxation / stress diagnostics tool (no release date)
Super Mario Galaxy 2: New 3D Mario game
Categories: consoles • industry • video games
Tags: e3 • nintendo
And nothing happened. Nothing captured my interest and certainly nothing was announced to satisfy the hard-core gamers.
New Products

Wii Speak: A microphone that sits atop the TV that picks up all the sounds and voices from a room. This will be used in games in lieu of a headset. But the Wii doesn't have a system-wide voice system (let alone a decent online game strategy). This will need to be supported from game to game.

Wii MotionPlus: An add-on that plugs into the WiMote to add wrist based twisting motions to its repertoire of recognized real-time movements. One wonders how developers are going to appreciate the burden of developing titles that work with both the WiiMote alone and with the MotionPlus adapter.[gizmodo review here]

Wii Sports Resort: A new game, similar to Wii Sports, but situated at a beach resort. They demoed Frisbee throwing (with a cute dog catching it), sword fighting and lumber chopping. This game uses the new Wii Motion Plus for accuracy. Coming March 2009.

Wii Music: A new music game featuring 50 virtual instruments was announced. A virtual piano, violin, sax and drum kit were demonstrated. Unlike Rock Band and Guitar Hero, the user doesn't need to purchase physical plastic instruments. Nor do they follow note patterns on a screen to play. The instruments are 'virtual'. Waiving/moving the WiiMote around in a manner similar to the instrument being played simulates the instrument. The virtual drum kit (see picture below) that uses the WiiMote and Numchuk as the drumsticks and a WiiFit board as the drum peddle was clever. But the other instruments looked like little more than air-instruments where regardless of what the user does some facsimile of music will be produced. Lame. And it sounded pretty awful. [more info here]