I recently read Brent Evans' ZNF post on Vista Media Center's ('MC') new MSNBC video on demand service. As with virtually every-other Internet-related video distribution announcement these days, I fully expected this service not to be available in Canada.
Here's a typical message I get when I try to access this type of MC functionality from Canada:

Virtually none of the movie, TV, or other media-related services our American friends take for granted in MC are available in the Great White North.
Much to my surprise, as I was testing out the Xbox 360 media-extended piece of the latest MC upgrade (the upgrade got my MC working again for the first time in over a year), I saw the msnbc.com item (circled below) on the 360's MC screen.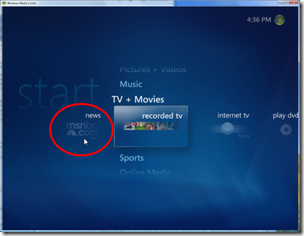 Fully expecting the usual 'Not Available in Canada' notice, I clicked on it anyway. To my surprise, however it worked.
Continue reading "XBox 360 Teases with Temporary MSNBC iVoD in Canada"