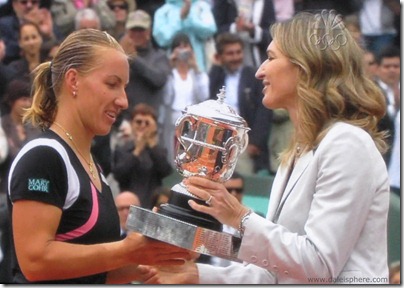 (click on images in post for larger view)

In yet another lack-luster women's grand slam final, the world's number 1, and my current women's favourite, Dinara Safina,  was soundly beaten by Svetlana Kuznetsova 6-4, 6-2.

This is Kuznetsova's second grand slam title (the first being the 2004 U.S. Open). Safina has still not won a major. Good for Kuznetsova! But it's hard to cheer for someone who doesn't seem to have much of a personality.
On the up side, it was really nice to watch a women's grand slam final without the Williams' sisters. It was also nice to see Steffi Graf again!
I miss Clijsters, Davenport, Henin and Hingis!