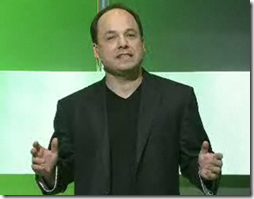 The Microsoft Press Conference can be viewed here. See also: My 2008 Microsoft E3 coverage.
Big Announcements:
Halo Reach: Bungie teased this new Halo game, set for a fall 2010 release. Whoo hoo! If its a Bungie shooter, and it has the name Halo on it, I'm in! Is 'Noble 1', Will Master Chief?
 
Metal Gear Rising: The next Kojima / Konami Metal Gear game is coming to the Xbox!!! Holy Cow! The final coup de gras against Sony.  Kojima seemed genuinely happy to appear on stage for the announcement.
Project Natal: A 'controller free' , full body motion capture, item scanning, facial and voice recognition. Will work on every 360. See demo here. I'll believe it when I see it! I don't believe the Lion's Gate Milo demo pictured on right. It had to be heavily scripted (click for larger view).
Continue reading "Microsoft E3 2009 Press Conference Summary"