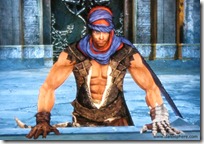 (3/5) – action – adventure Reviews: Metacritic 81%| Game Rankings 80.68% | zero punctuation
Reference: 

| Achievements
Walkthrus: Mahalo | WikiCheats | GameFAQs
Developer: Ubisoft Montreal, Engine: Scimitar / Anvil
Game Synopsis
In Prince of Persia ("PoP"), an unnamed prince, who isn't really a prince, travels with Princess Elika to each of the 24 regions, jumping, climbing dodging, fighting enemies to get to the region's 'fertile ground". He defeats a bad guy, Elika 'heals' the fertile ground, then they retrace their steps on either side to collect light 'seeds' (Crackdown-style) to level up. THEN HE DOES IT ALL AGAIN – TWENTY-FOUR TIMES. That's the game.
It's gorgeous and somewhat fun, but left me wanting. I preferred the the Prince of Persia: Sands of Time on the original Xbox – especially the fighting elements and the ability to rewind time.
General Observations
Tomb Raider Meets God of War : The game style can best be described as a cell-shaded combination of God of War, Crackdown, Assassin's Creed and Tomb Raider without GoW's terrific combo-leveling up system. I note that PoP uses the same game engine as Assassin's Creed (Scimitar) which explains a lot.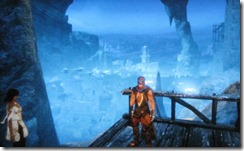 Grander in Scale: This Prince of Persia is much grander in scale than the original Prince of Persia: Sands of Time  and similar in scope to Assassin's Creed.
Level Intricacies: The intricacies of the 24  regions are quite amazing – especially given their three dimensional nature. You explore every nook and cranny, but, unfortunately, you must explore each nook at least three times to fully complete the game. This is the poster-child for games that extend play by forcing you to retrace your steps, over and over.