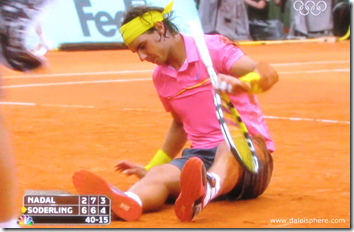 When Rafael Nadal's tripped in the third set, Mary Carillo said this picture will be famous if Nadal goes on to loose – even suggesting a title – "the Champ goes Down". How prescient! I'm doing my part to fulfill her prophecy.
In what was a surprising and yet terrific match, Nadal's 2007 Wimbledon nemesis,Robin Soderling (they played a 5 setter lasting 5 days due to rain delays), did something nobody has ever done before – beat Nadal at the French Open. Amazing!
This sets Federer up to accomplish three big things next Sunday:
winning his first French Open;
thereby giving him a career grand slam; and
tying Pete Sampras's 14 major title record.
Assuming, that is, that Federer makes it to the finals next week. This is Federer's big break. I'll be cheering for him.
On a related note, Azarenka defeated the 2009 French Open women's champion, Ana Ivanovic, in straight sets. That isn't much of a surprise to me. I have thought for some time that Ivanovic was over-rated. Go Safina go!