Categories: android • iPhone • misc • mobile
Tags: eyes • font size • iOS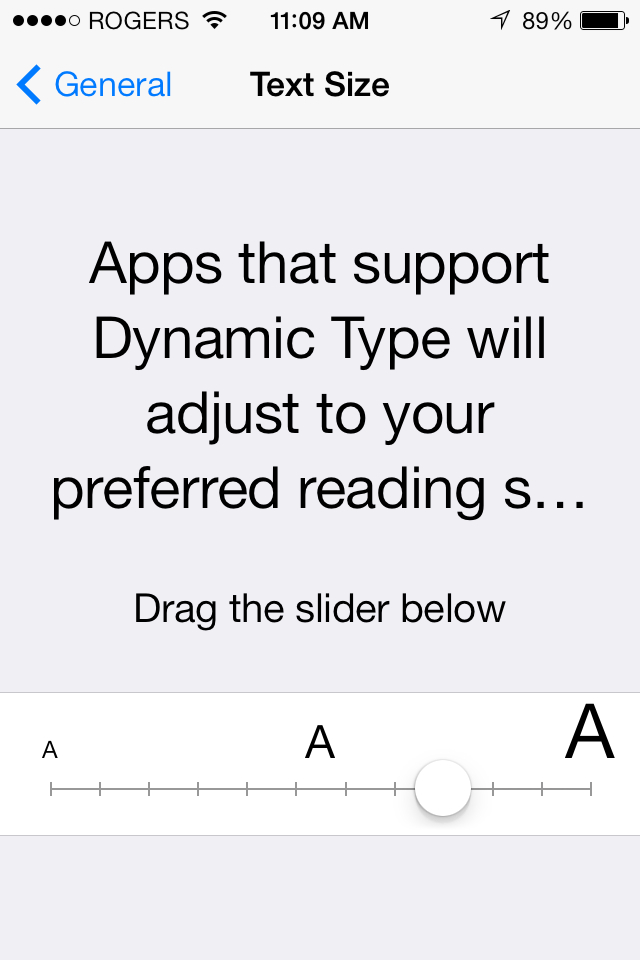 For years iOS has had a 'system-wide' font size option that allows you to set a font size of choice. Apps that support it will use the larger font size. Of course virtually no apps ever did support it and my aging eyes have been yearning for the larger screen Android's out there.
I have had iOS 7 since August but didn't know about its 'new' Dynamic Type option until today. Many apps have updates to be compatible with iOS 7. Flipboard recently included a feature that allowed the user to set a preferred font (Yay! Made it usable). Well, when Flipboard updated itself, it popped up a message that said "We see that you had set a font preference, from now on we will be using your system wide Dynamic Type preference". Say what? I kinda ignored this until I noticed that my AnyList app (best grocery list app out there by the way) does the same thing. It now supports the system wide Dynamic Type choice. So, I looked it up in settings. In the past iOS gave you a choice of, maybe 6 or 7 font sizes – but, again, the only apps that ever supported that were email and messaging. The new Dynamic Type setting (see image) gives you a much broader array of font sizes to choose from. So, I set it to quite large.
CONTINUE READING →
Categories: gadgets • iPhone
Tags: iOS • iphone
Since upgrading to iOS 4 a couple months back my iPhone 3G has ran as slow as molasses. So frustratingly slow that I have been considering replacing it with an Android (though Android handset choices in Canada are few).
Today iOS 4.0.1 was released. As you can see below it purports to include iPhone 3G performance fixes.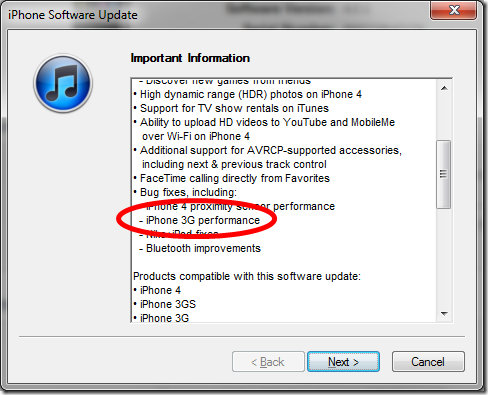 After futzing around with my updated iPhone 3G for an  hour I can report that the update has fixed the problem somewhat. Apps do start and function quicker than they have recently. But the device and its apps still run noticeably slower than pre-iOS4.
I'm still considering an Android but, for the time being,  am unlikely to completely abandon the iPhone. I'm  hoping future iOS updates continue to fix 3G performance issues. But, I'm not holding my breath.
Categories: iPhone • mobile
Tags: iOS • iphone
As with the rest of the world, I have upgraded to iOS 4. Straight from the update install screen itself, below is the list of new features included in this update.
See Also: TiPb's terrific iOS4 Walkthrough.
* Requires iPhone 3GS, iPhone 4, and iPod touch 3rd generation
** Requires iPhone 3G, iPhone 3GS, or iPhone 4
Be Warned: Downloading and installing the update takes awhile. It took iTunes and my 16 GB iPhone well over an hour to be updated.
—–
This update contains over 100 new features, including the following:
• Multitasking support for third-party apps*
  – Multitasking user interface to quickly move between
     apps
  – Support for audio apps to play in the background
  – VoIP apps can receive and maintain calls in the
     background or when device is asleep
  – Apps can monitor location and take action while
     running in the background
  – Alerts and messages can be pushed to apps using
     push and local notifications
  – Apps can complete tasks in the background
• Folders to better organize and access apps
• Home screen Wallpaper*