Categories: iPad • software
Tags: flipboard • iPad • twitter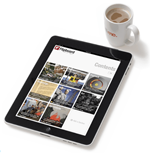 I've been waiting patiently for my Flipboard invite since its launch last week. I received my invite earlier today and have been playing with it ever since.
The generic Flipboard interface is nice, but, for me, its killer feature is its Twitter integration. I feel almost as excited about Flipboard as Robert Scoble

.
At the moment I follow 74 terrific Twitter users. About 75% of their tweets contain links to interesting articles on topics dear to my heart. Flipboard turns this curated feed of news stories and blog posts into a beautifully personalized eZine. As I flip through Flipboard, instead of links to the stories in my Twitter feed, the first few paragraphs and accompanying picture from most of those linked stories are attractively and interactively displayed on my iPad. If I want to read the full story, I tap it and am instantly taken to the underlying story on its originating website.  Another tap and I'm back to my Flipboard eZine. See the demo below:
Twitter integration is the raison d'etre for Flipboard