Diary: Entry #1,
Reviews: Metacritic | Game Rankings
Reference: GameFAQ |


Developer: EA DICE, Engine: Frostbite
Status: Finished "Welcome to Bad Company" (the intro level)
Pros: Boat load of shooter fun – Immersive – Humorous – Destructible environment – Terrific death/penalty system – Save points therefore a non-issue – Very good graphics/character models – Difficulty Level is just right – Amusing squad – PC can jump
Cons: Fighting with camera while driving – No coop – No customizable controls – Daft syringe/help system – No prone position
Introduction
In Battlefield: Bad Company ("BBC") you play Private Preston Marlowe, of "B"ad Company, a band of misfits in the 222nd army battalion of the U.S. army -currently fighting the Russian Federation.
Somehow BBC had escaped my radar until I read Paul Thurrott's review here. Our tastes in gaming are almost identical. So on his recommendation, I decided to try it.
Other than a few hours here and there, I've never played a Battlefield franchise game before. So I'm new to this franchise and, so far, I'm really enjoying it! Much, more so than MGS 4.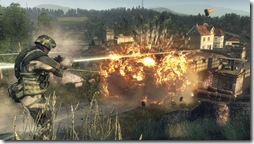 Initial Impressions – The Good Stuff
Fun From the Start: From the amusing jazzy-organ playing opening credits/main menu this game felt like was going to be something different.
Immersive: As with other leading shooter, the ambiance, 5.1 sound, terrific graphics and, in this case, almost instant death if hit, give this game a terrific immersive (feeling like you are really there) quality that is still too rare.
Destructible Environment: The much touted destructible environment is definitely fun! But it is odd that you can't totally destroy a building. You can knock out most of its walls but try as you might its support pillars will not blow up. So you can not, for example, topple over a two story house – even though you can knock out every one of its walls. Kinda lame.