[Click images for larger views.]

Nadal def. Federer: Nadal won his first major on a hard court while denying Federer's attempt to match Sampras' 14 major record. This marks the first time a Spaniard has won the Aussie Open. The high level of play we saw in the 2008 Wimbledon final continued into the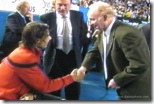 early sets of the Aussie final. Given the record setting five hour, fourteen minute semi between Nadal and Verdasco,  Federer's attempted to capitalize on Nadal's fatigue. It didn't work. Nadal did seem tire out early on but was resilient enough to take it to a fifth set where Federer appeared to wither. Nadal's strategy, to constantly serve and return to Federer's backhand worked.

Federer broke down in tears during his acceptance speech. He had to walk away to compose himself. He stood their crying for what seemed like an eternity as the crowed cheered. He finished his speech, fighting back the tears after Nadal picked up his trophy. I've never seen anything like that.
Trivia Tidbit: The coin toss is irrelevant for every Federer/Nadal match. No matter who wins, Nadal always elects to server and Federer always elects to receive.

  S. Williams def. Safina: Serena Williams embarrassed Dinara Safina in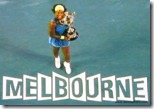 a 6-0, 6-3 loss lasting less than an hour. This was Williams' fourth Aussie Open win and 10th grand slam title. Safina's performance tournament-wide was less than spectacular. She needs more work. She apologized to the crowd for her poor performance. The crowd forgave her.
Continue reading "Australian Open (2009) Second Week – Nadal and Serena Win"