In the early days of console gaming, about 25% or so of all games made me nauseous, dizzy or gave me headaches to the point where I couldn't play them. A prime example was Deus Ex: Invisible War. I enjoyed the game and wanted to continue playing it. But I couldn't play for more than 15 minutes without becoming dizzy and nauseous. Ultimately, I had to abandon the game.
[Updated May 25, 2009. Added first person bobbing-while-walking factor.]
In the current (Xbox 360/PS3) console generation, the percentage of games that are unplayable due to nausea, headaches or dizziness has dropped dramatically to, perhaps, 5 to 10%.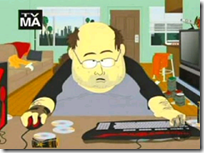 For example, I couldn't play the otherwise enjoyable Laura Croft: Tomb Raider Legend for more than 15 minutes without feeling ill.
Below, I identify three four factors that cause me dizziness, headaches and nausea when playing video games.  I also list specific games that have made me sick.
I'd be interested in your thoughts – especially with respect to what might be behind the X-Factor discussed below.
Continue reading "Video Game-induced Nausea, Dizziness and Headaches"