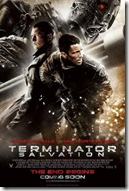 (4.5/5) action – thriller – sci-fi
Reviews: Roger Ebert (2 of 4) | IMDb External Reviews | Rotten Tomatoes 34% | Metacritic 51%
I loved it! Having listened to Ben Mankiewicz's review I was expecting it to be terrible. Fortunately I had not read Roger Ebert's rather ill-informed review. I hold his opinion in such high regard that I may not have seen it at the cinema. And, this kind of movie is best viewed on a big screen.
Let's be clear, I am not a die-hard Terminator fan. But, I did faithfully watch and enjoyed the now cancelled Terminator: Sarah Connor Chronicles TV series. I suspect that that was a factor in my enjoying the movie as much as I did.
Ebert's biggest criticism is that there is no story. To someone that is not a fan, that is a valid criticism. The movie makes no effort to fill the viewer in on the back story. It assumes you know it. Both Ebert and Makiewicz contrast Terminator to the recent Star Trek and how it was approachable by regular movie goers. There is validity in that argument.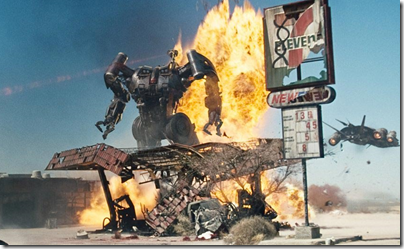 But anyone who is a fan of the Terminator franchise or the TV show will enjoy how Terminator Salvation fits into the overall story arch. It shows how John Connor becomes the leader of the resistance and, ultimately, the beginnings of why the machines spent so much time in the earlier Terminator movies going back in time to try to kill him. That is the main story. There is an important side story involving Sam Worthington that I also found interesting. Indeed, the side-story's plot is the basis for the use of 'Salvation' in the movie's name. To explain why would be to provide a spoiler.