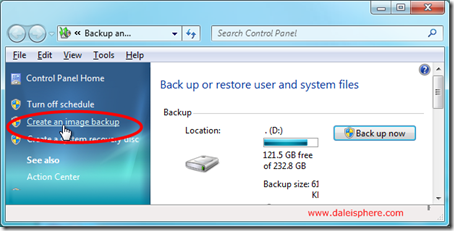 In mid February 2009, shortly after installing Windows 7 Beta on my primary PC, I made the huge mistake of running an automated 'Registry Cleaner' program. Suffice it to say, it destroyed my system.
Because, my data is backed up on a nightly basis, I lost no data. But I did lose years (stretching back to my first Vista x64 install in January of 2007) of application installations and tweaks. Two months later I have finally (mostly) completed the long and laborious chore of re-installing and tweaking the many dozens of applications I use every day.
To ensure that I NEVER experience this special kind of hell again I decided to create an image of my primary system C:\ drive. I looked at various commercial system image/ghosting programs but decided that the system image feature built into Windows 7 was sufficient for my needs.
Highlights:
The process took about 30 minutes for a 100 Gig C:\ drive.
I was able to use Windows 7 and all my apps as normal during the entire time the image was being created.
Compression was terrific. It compressed my 100 GB system to a 45 GB image backup.
Below is a simple step-by-step description of how to use it. The process is simple:
Continue reading "How to Use Windows 7's System Image Backup Feature"