Reference:

|


Reviews: Roger Ebert | IMDb External Reviews | Rotten Tomatoes 95% | Metacritic 82%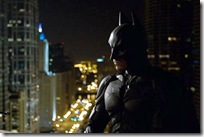 Wow! The Dark Knight was so good I would have wanted to give it 5.5 Dale-heads out of 5. But, its whopping 2.5 hour length, and the fact that I don't have a graphic for 5.5 Dale-heads, pulls it back to a meagre perfect 5 out of 5. 🙂
I quite enjoyed Batman Begins (2005). The Dark Knight was even better. In this instalment, Christian Bale's Batman, Lieutenant Jim Gordon (Gary Oldman ) and District Attorney Harvey Dent (Aaron Eckhart) had been making significant strides in reducing the crime-ridden Gotham City we encountered in Batman Begins until a new arch-villain, The Joker (Heath Ledger), rose up to challenge them. And challenge-them he does.

Heath Ledger as the Joker was spectacular and is a shoe-in for Best Supporting Actor. He steels the show from Christian Bale, though Bale's performance was very good too. Ledger's creepy, nuanced performance of a sociopath is acting at its best.