Registered User Comments Only – for now.
Categories: blogging
Tags: comments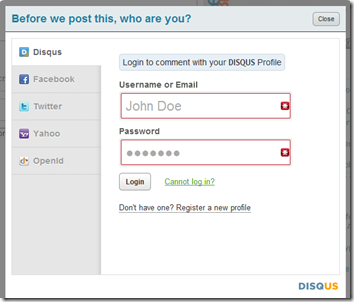 Due to a recent rash of spam commenting, for the time being I have changed The Daleisphere's comment settings to permit comments only from registered users. When leaving a comment you'll be asked to identify yourself through any of the accounts shown in the graphic above – ie: by using any of your Disqus, Facebook, Twitter, Yahoo or OpenID accounts. Note: This is secure. Neither I nor Disqus gain access to your account details when you login this way.
Unfortunately I've had to delete hundreds of spam comments over the last few days. Hopefully Disqus will soon get a handle on whatever technique comment spammers are using and put a stop to it. Otherwise I'll have to seriously consider moving to IntenseDebate. Sorry about this.