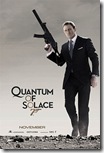 (3.5/5) action – adventure  – thriller
Reference:

|


Reviews: Roger Ebert | IMDb External Reviews | Rotten Tomatoes 65% | Metacritic 58%
Quantum of Solace (2008) is part 2 to the spectacularly good Casino Royale (2006). It takes up just minutes after the first ends. I agree with the critics who say that this Bond instalment tends more towards the action-oriented Jason Bourne series of movies than a typical Bond flick.
But, was there too much action? I disagree with the critics. I enjoyed the action. I enjoyed all things Bond including the beautiful  women, sports cars, political intrigue and exotic locals. While different, it was still very much a Bond film.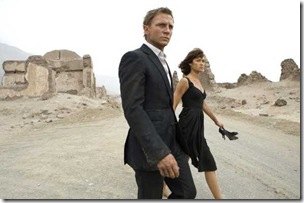 My primary criticism of the film is that it was hard to follow. Maybe its my age. But I find too many modern-day, action-packed thrillers are hard to follow in real-time. When watching on AppleTV, Bluray or TiVo, I can pause, rewind,  think the plot through and discuss it with friends. You can't do that in the cinema. I had the same problem with The Dark Knight (2008). I look forward to each of them coming out in high-def so I can watch them at my pace.

Daniel Craig was, once again, first rate. The newest Bond girl Olga Kurylenko (pictured with Craig above), was spot on – smart, beautiful and exotic. She-too had revenge on her mind.

Lines were appropriately not crossed given that a primary plot element in this movie is Bond's revenge for his love, Vesper Lynd, in Casino Royale. Dewey-eyed Mathieu Amalric (pictured to the right) played the villain Dominic Greene. As Bond-villains go, he was rather low on the intensity-scale. Le Chiffre, from Casino Royal, is a very hard act to follow.

Judi Dench (M), Jeffrey Wright (a CIA agent – pictured to the left) and Giancarlo Giannini (an ex-MI5 agent)

were all back and fine.  Newcomer, Gemma Arterton (Ms. Strawberry Fields – I kid you not) also appears as a secondary, err, love-distraction. She is pictured on the right in this promo shot – click for larger view. 
Despite the rather low scores given by most critics, I can't imagine a Bond fan leaving the cinema disappointed. While somewhat hard to follow, I still recommend seeing this in a cinema on a large screen – where it was meant to be seen.
Comments
comments