Hell has officially frozen over. After 28 years of PC ownership, I purchased my first Apple computer yesterday – a mac mini.
I'd like to try my hand at developing iPhone Apps for the App Store. The SDK only works on the Apple platform (no SDK for you, PC developers). The big challenge for me won't be the iPhone SDK so much as figuring out how to use a Mac. I've never spent more than a few frustrating minutes with the platform.
The Mac Mini Decision
Originally I was going to purchase an iMac hoping that I could use it in my growing array of PC monitors (ie: use its screen to switch back and forth between the iMac and just another screen in my array of PC screens). But, there's no VGA, DVI or any other video input on the thing.
After an hour or so on the iPhone Developer site on my own and then another half hour with an Apple Store rep, we determined that the Mac Mini must be able to run the iPhone App SDK. Hence, as the cheapest way to go I decided that the Mac Mini was the best bet. After all, I have no intention to use the thing for anything other than Apple App development. And if it doesn't meet my needs I have 14 days to return it.
I was a bit surprised that the Mac Mini doesn't even come with a keyboard or a mouse. The Mac Mini was $649. The two extra peripherals were $49 each. And it cost me $99 fee to join the iPhone Developer Program. For $846 plus tax, I'm off.
What the Heck?
Like the legions of PC users that have switched to Mac's before me, I'm lost in the Mac OS X interface. I'm going to have to find one of those re-education web sites to teach me how to use this thing because I really feel like I'm in a foreign land. [Update: This Switching from Windows section of the MyFirstMac.com website is pretty good. See also Tips for Making the Switch to Apple.]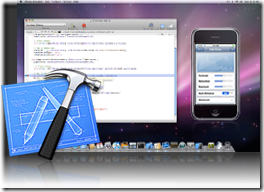 After hours of OS X and application updates, I paid my $99 iPhone Developer Program entry fee and managed to download the gargantuan SDK (1.4 Gigs of code). I managed to install it. But, as of yet, I haven't found where I installed it, nor figured out how to launch it or get its icon onto the task bar (or whatever that bar across the bottom is called. Ha!) dock [Update: figured it out]. I also figured out how to access my NAS, but haven't found a way to add an icon to the NAS on my desktop. Can you put icon's on a Mac desktop! 🙂 [Update: Yes. I figured that out too.]
I spent some time reading the SDK documentation online and watching a few SDK intro videos through iTunes. I also mapped out my first iPhone App on paper (more on that in a future post).
I'm running iTunes and Safari but there are no "Files, Edit, Help" etc. menus across the top of the Mac versions of these programs like there are on the PC versions. I don't know how to configure these apps (there must be options/preferences settings somewhere). Then there's these crazy buttons on the keyboard that I don't know what they do. [Update: Found the "Files, Edit…" bar … There seems to be a universal bar across the top of OS X that changes depending on which app is highlighted]
The concept of child windows linked to mother windows is kind of freaky and unnecessary. I hate that there is nothing analogous to the task bar where I can just click on any running program/open window. I hate all those unused icons in the Dock. I'd rather they were tucked away in a Start menu with only the apps I'm currently using in the Dock.
And, despite the Mac mini seeing my Samsung printer shared on my network, there is no mac driver for it so I won't be able to print from my Mac. Well, at least not yet.
But it is a sweet bit of kit. Very well thought out. After years of iPod use and being a recent iPhone and Apple TV convert, I can see why people love it so much. So far its been a fun ride – frustrating, but fun.
Next steps, download and install Firefox for the Mac (Safari is unusable as a mainstay browser). Then some Mac basics training, then onward to the SDK – when I figure out how to launch it that is 🙂
Given that the last two weeks of August are always the slowest, I'm hoping to have some quality time with just me and my Mac over the next few days.
[September 7, 2008 Update: Note: I ultimately traded up to an iMac for reasons set out in that post.]
[Update March 3, 2009: My primary reason for trading up to the iMac were the lack of dual monitor support and the small hard drive.  The new Mac Minis that came out in the beginning of March 2009 now support dual monitor setups with a Mini DVI port and Mini DisplayPort on the back.  The smallest hard drive has changed from 80 GB to 120 GB. With these changes it now makes the Mac Mini more suitable for iPhone development – especially if it is connected to a network for extended storage. Here are the full new Mac Mini specs.]
Comments
comments