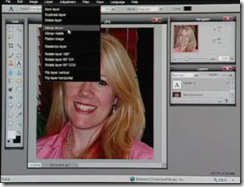 I discovered a terrific new web-based image editor called pixlr.com. It works like Photoshop Elements, Paint.net and other popular image editors – but from inside any browser, with nothing to install.
It's free. No sign-up or user account needed. No downloads or installs required. It just works – instantly.
Remarkably, If you have Adobe Flash 10 installed, it works like a desktop app, but, still, in your browser. Load and save images from your PC via typical desktop pull-down menus. Press F11 to make it go full screen. It looks and feels like you are running a desktop app.
It works on the Mac or a PC – anywhere you can install Adobe Flash. This is particularly attractive for Mac users given that there is no useful image editor built into OS X.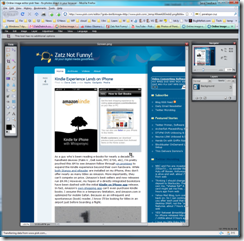 With this Pixlr Firefox extension installed, one mouse click opens screen shots from any web site directly into pixlr. I captured this front page image from www.ZatzNotFunn.com – with just one click (click image for larger view). I used File – Save As, to save the image to my desktop. I could have edited it, cropped it, added layers, etc. before saving.
It's an astonishing tool that really shows the power of web-based apps and the future of cloud computing.
Here's a YouTube demo of Pixlr in action. Here's another. And another. Wonderful.
See also: 15 online photo editors compared
Comments
comments