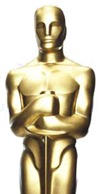 Reference: Roger Ebert's 09 Oscar Page | Official Oscars Website | IMDb Oscar 09 Page | Wikipedia 81st Academy Awards Page
Kudos to the producers of the 81st Annual Academy Awards for some wonderful changes to the show this year:
Nobody was prematurely played offstage: Winners were FINALLY allowed to give their acceptance speeches. Thank God!
Intros: Introductions to the acting awards by prior nominees is a terrific idea. It was great to see/hear the Oscar greats while hearing a personal introduction to each of the nominees.
Orchestra Onstage: The orchestra wasn't hidden in a hole – rather they were put on stage where they could be seen. Perhaps when seen publicly they were too embarrassed to prematurely play someone off! 🙂
No Comedian: While Hugh Jackman was OK, the best part of this change was that the nominal host spent little time on stage, thereby giving the actors and other winner more time to talk. I miss Billy Crystal but I enjoy the winners getting a fair shake at an acceptance speech.
Comments
comments